How to Increase eCommerce Conversion Rates
If you're trying to develop a strategy to increase your eCommerce conversion rate, you may be feeling overwhelmed.
There's a lot of information out there about conversion optimization, so it may be challenging to choose which strategies to prioritize
Another problem is that many eCommerce business owners get the basics wrong, making it impossible to increase conversions with more specific tactics.
Worry not – we've written this article to show you how to set up your website in a way that makes it a conversion powerhouse, as well as techniques that have been proven to increase conversions massively.
Excited? Let's dive in.
But before we start, what is a good conversion rate?
According to recent statistics, the average eCommerce conversion rate currently sits at 1.78%.
If you're curious to know the average for your niche, check out this article. It includes benchmarks for 11 different niches.
While these averages provide a good basis for comparison, it would be false to say that all eCommerce stores should aim for those numbers. That's because every eCommerce store is unique and certain factors can make their conversion rate lower than the average without affecting their profit.
Suppose you have a blog that attracts a good amount of traffic but that traffic doesn't convert often. This would lower your conversion rate, making it seem like you're not performing well when in reality you may be generating significant profit.
So a more accurate conversion rate goal is to surpass your previous month's conversion rate.
Now that you know what to aim for, let's discuss strategies to increase your conversion rates. We'll be starting with the essentials – how to make your brand more persuasive and credible.
Persuasion
The digital world is turbulent and competitive, and people are busy. Growing fears over a possible recession and inflation are making people hesitate more before spending their money.
These are some of the reasons why a great product and a killer value proposition don't suffice for generating sales. People need an extra push to move from brand discovery to interest, and another one for sparking a purchase intention.
What is that extra push? Persuasion.
How do you persuade people? The first step is ensuring your website has high-quality web design and copywriting.
Design
I say this often, and for good reason. If you want to succeed in eCommerce, you need your website to be designed well.
Your website determines the user's first impression of your business. If your website isn't aesthetically pleasing and feels hard to navigate, you immediately harm the customer's perception of your credibility.
And if you give the impression that you're not credible, people won't feel compelled to explore your store further, let alone make a purchase.
Now you may ask – How do I know if my website's design portrays credibility?
Here are some signs that it probably isn't:
It lacks consistency. Great web design is based upon consistent colors (up to 3) and fonts (also up to 3).
It feels cluttered. This is a side effect of lacking consistency. Additional warning signs of clutter include too many words, images, and a lack of consistent structure.
It's hard to read. Ideally, fonts should be either dark against a light background or light against a dark background to ensure readability.
Here's an example of a website that could use a redesign: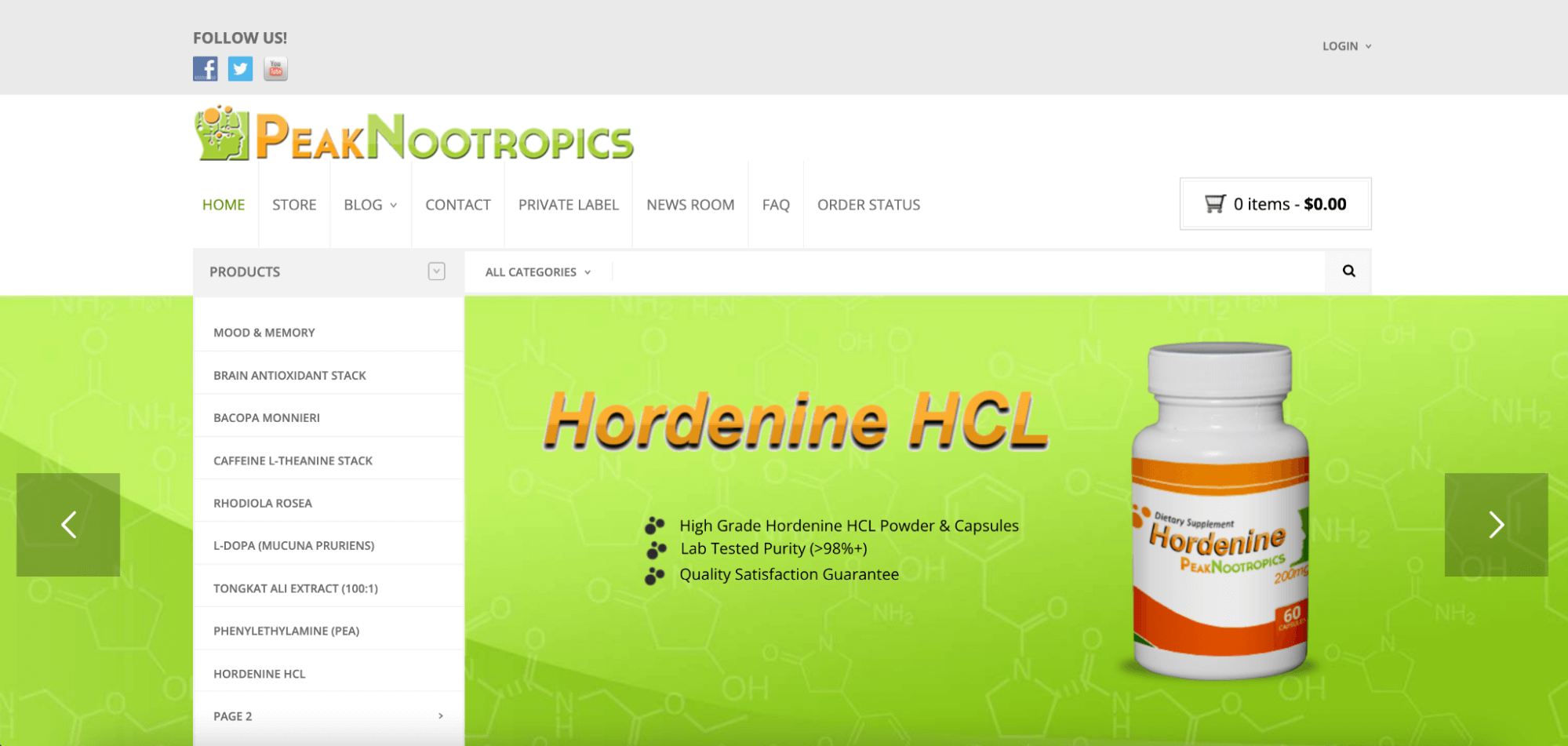 And here's an example of a website with great design: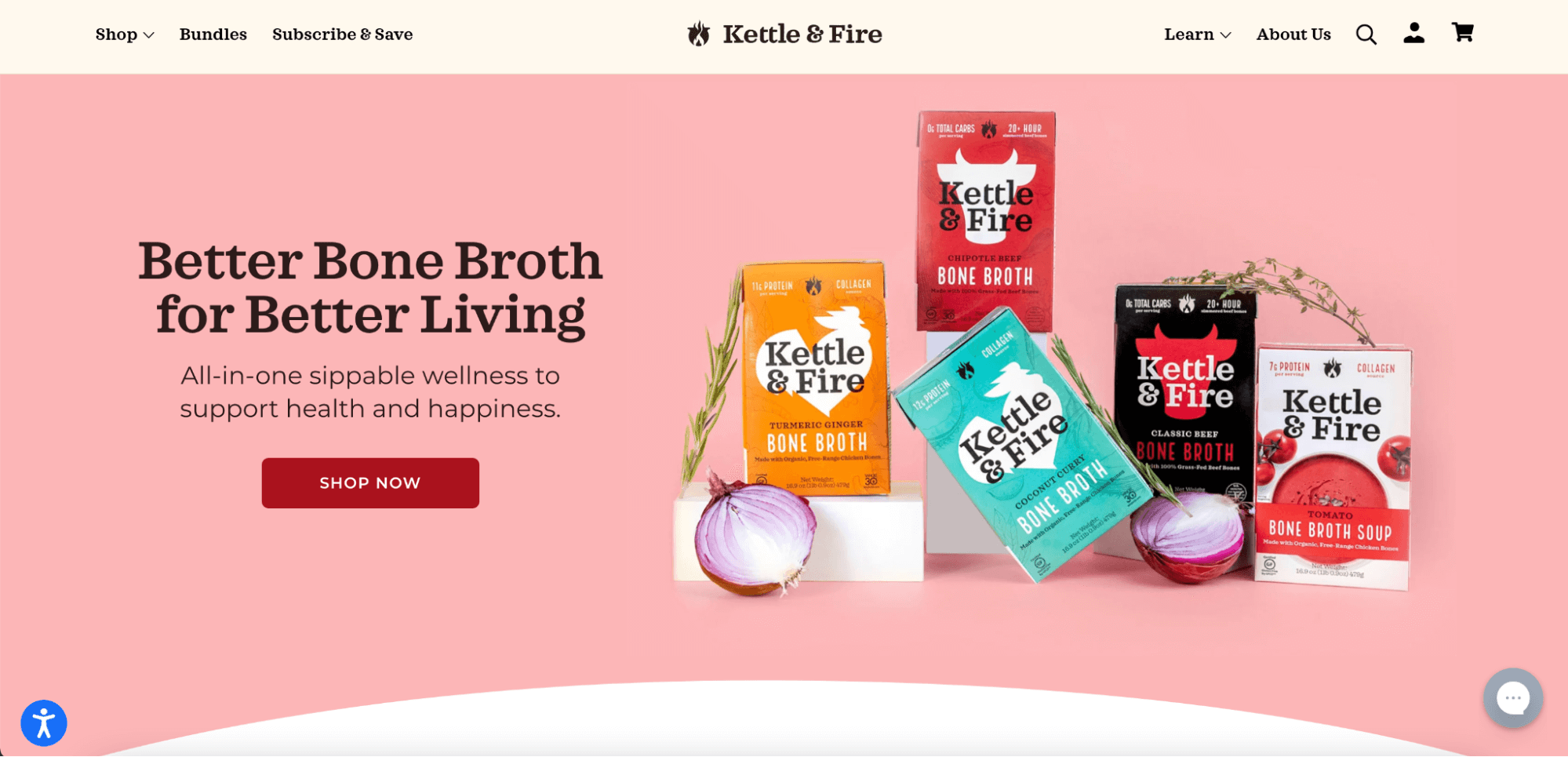 Another important element to pay attention to is site speed. According to statistics, every additional second in loading time leads to an average 0.3% decrease in conversions.
To put this into perspective, if 1,000 users visit your website to purchase a $50 product, a loading time of one second would result in $1,525 in sales, while a loading time of 4 seconds would result in $335 in sales.
Copywriting
High-quality copywriting is crucial for persuasion. Let's consider a fictional example of a store that sells a sunscreen product with vitamin C.
If the website says something like "protect your skin from the sun and get your daily dose of vitamin C", people won't feel compelled to buy.
Now if it says something like "Look up to 10 years younger and prevent skin cancer. Our broad-spectrum sunscreen protects you from both UVA and UVB rays, while also providing you with Vitamin C to boost collagen production, maintain your youth, hydrate your skin, and even out your skin tone", people are much more likely to be interested.
Professional copywriters know how to communicate the value of your products in a way that makes people want to buy.
So if you want to increase your conversion rate, make sure your website copy – from the landing page and all the way to specific product descriptions – is on point.
Here are some warnings signs that you may need to change your copy:
There's too much information about your company. Apart from proof that you're credible, customers don't care about your business. They care about what's in it for them.
The benefits of using your products are not stated clearly.
Your competitive advantage isn't clear. Chances are that there are other eCommerce stores selling similar products. Why should people buy from you? What makes you different?
Here's an example of a product page that has great copy: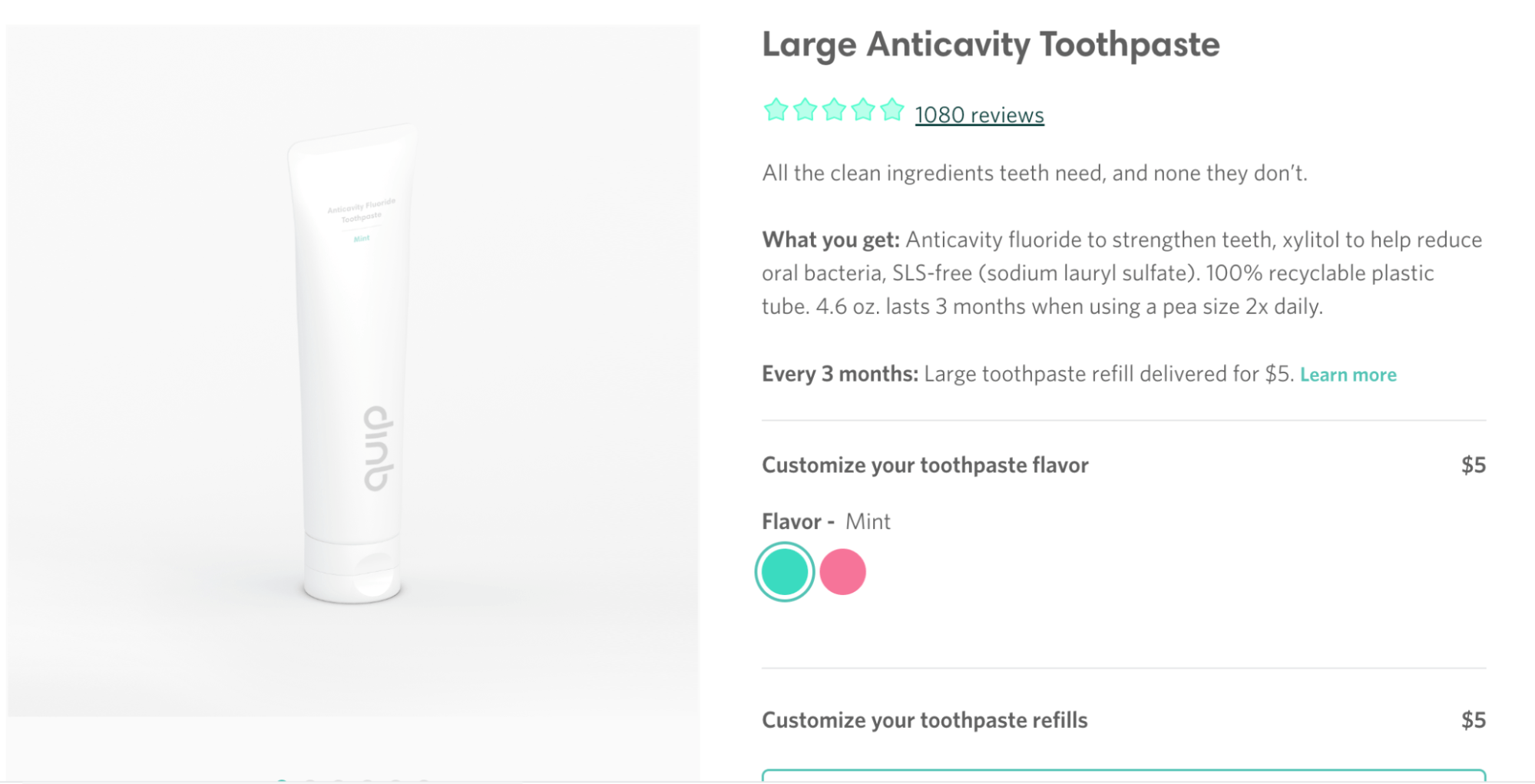 It mentions the benefits of the product (strengthens teeth and reduces oral bacteria) while also pointing out that it doesn't include any ingredients that teeth don't need (as opposed to other toothpaste brands).
Now that we've covered the basics, let's discuss more specific techniques for increasing your conversions.
Perform A/B tests
Sometimes small tweaks to your pages can make a big difference in conversion rates. A/B testing allows you to find out which variations of specific elements and pages are more effective in encouraging conversions.
The most important pages to A/B test are your landing page, store page, product page, and collection page.
As for elements, try to experiment with variations of the following:
Colors
Buttons
Pictures
Copy
Fonts
Placement of sections such as the menu
Pricing
Social Proof
Trust is particularly important in eCommerce because there's no face-to-face interaction – as such, you need to prove that you can be trusted with someone's credit card details and that you'll actually deliver what you promise to.
To ensure trust, incorporate these social proof elements into your website:
Ratings and Reviews
Ratings and reviews are the most important social proof elements because every prospect reads reviews before making a purchase to figure out whether other people have approved of the product.
According to research by PowerReviews, here are some review elements that can further increase conversions:
Search feature: Interacting with a search feature boosts conversions by 260.7%.
Helpful (yes/no) feature: this functionality increases conversions by 414.3% for "yes" votes and 292.9% for "no" votes.
In case you're not familiar with the latter, here's what it looks like:

Highlight numbers
Your product pages should clearly show the number of people that have bought the product.
Endorsements and media mentions
If your brand has been endorsed or mentioned by a particularly influential person, an expert in your niche (such as a doctor for a healthcare store), or the media, make sure to mention it. This can boost your conversions by establishing your brand as an authority.
Take a look at this brilliant example of a landing page that not only displays media mentions but also effectively portrays trust with its copy: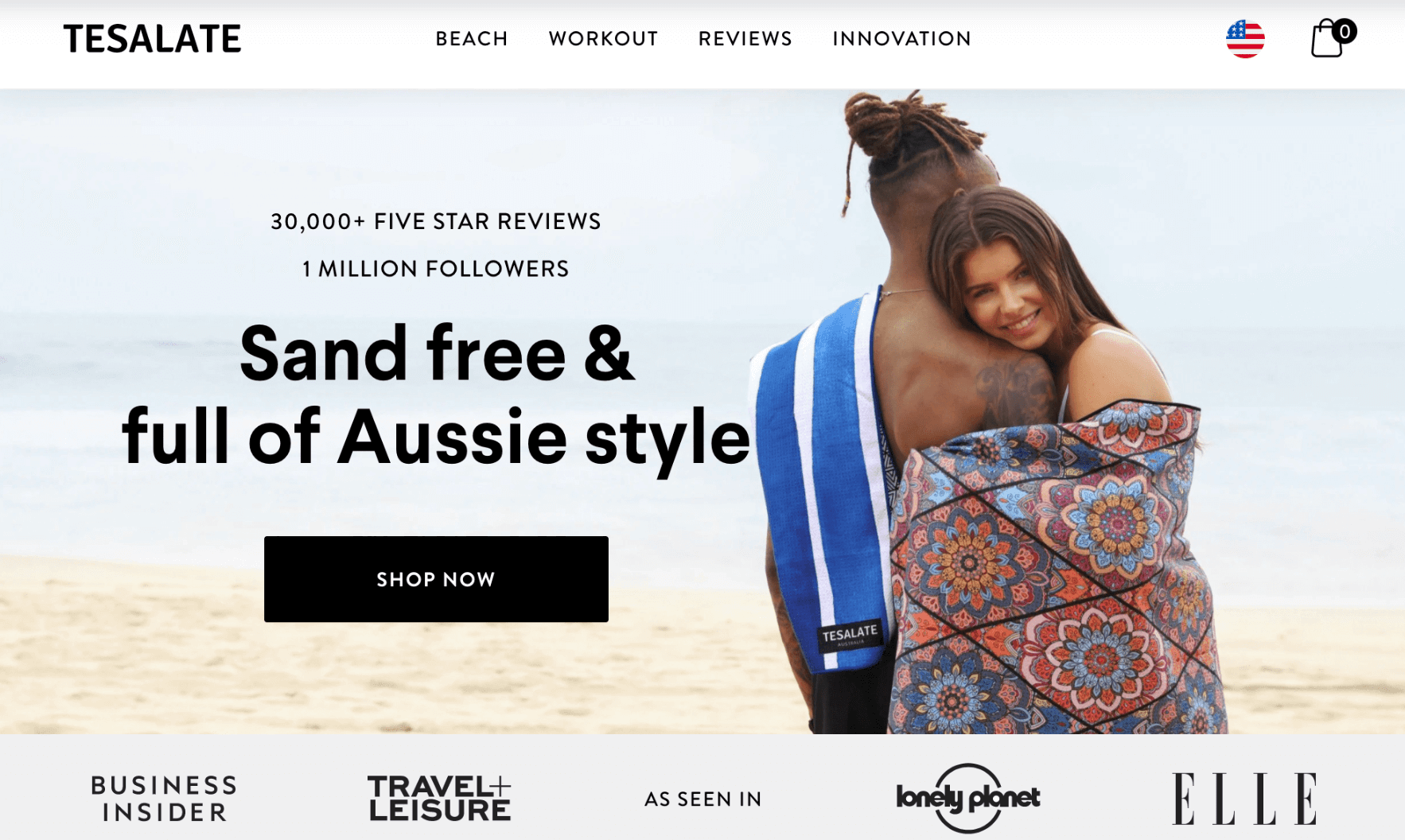 Add search filters
The Paradox of Choice states that people experience overload when they're presented with too many choices because the decision-making process is harder. The consequence is that they're less likely to make any kind of choice in this condition.
When there are fewer options, they can make decisions more easily and are thus more likely to make a purchase.
To avoid overloaded users, make sure to add search filters to your website. This allows customers to narrow down options to the ones they find the most relevant.
Encourage first orders
Encouraging first orders by offering perks is a great way to persuade customers who are interested in your products but haven't yet made a purchase decision.
Another benefit of encouraging first orders is that once someone makes the first purchase, they're likely to make another one in the future due to a persuasion principle coined "Commitment and Consistency" by American psychologist Robert Cialdini.
This principle states that getting people to act in a certain way is the hardest in the beginning, but once you succeed, they're likely to behave in similar ways in the future. In the case of eCommerce, making someone engage with and purchase from your brand is likely to lead to further engagement and purchases (you can read more about it in this article).
So, how exactly can you persuade customers to make the first order? By offering them additional value with promotions.
In the example below, the brand offers customers a limited-time promotion involving a free year of blades: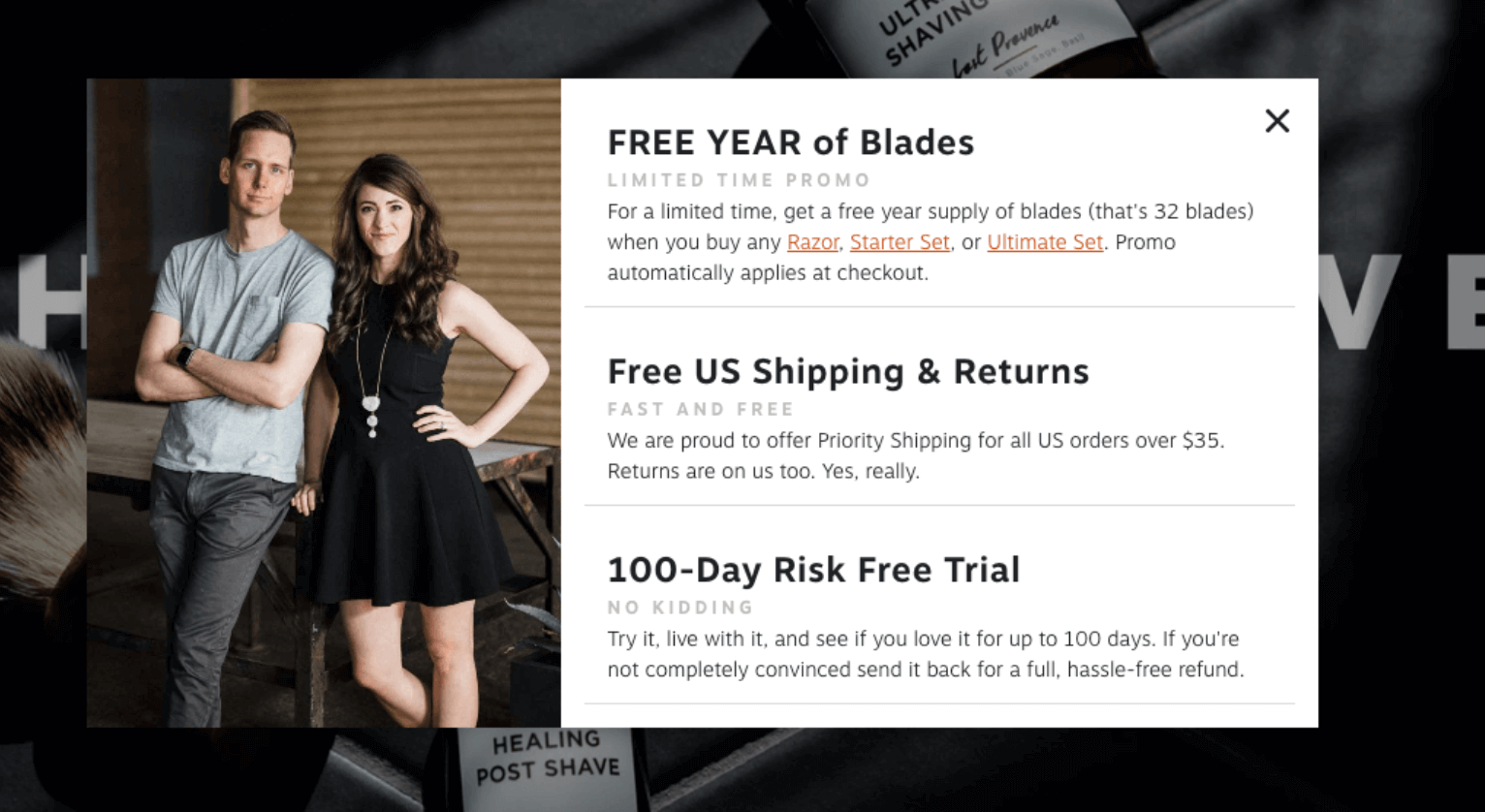 The example below uses the same strategy but offers a free gift for the customer to choose from: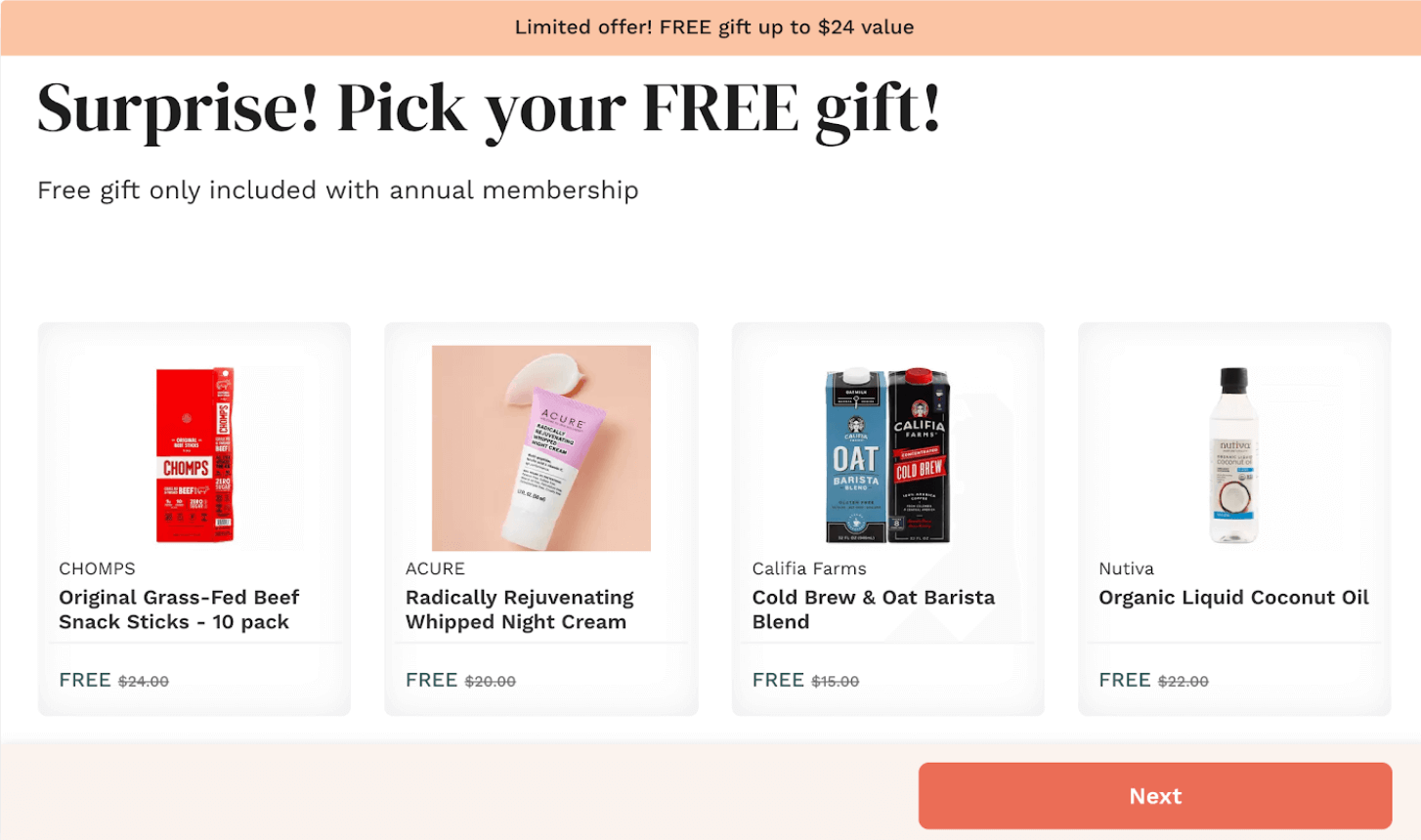 Ease the checkout process
You don't want to lose customers because of a time-consuming checkout process.
To ease the checkout process, limit form fields to the essential information only.
Since forms sometimes ask twice for certain information (such as the customer's name), considering add an auto-complete functionality to your forms to reduce the time and effort it takes to check out.
Finally, avoid unnecessary elements and information – such as sidebars – in the checkout process. The cleaner your page is, the smoother it feels to make a purchase.
Offer free shipping
Even if your shipping costs are not that high, free shipping is a great incentive, and arguably nearly crucial if the products you sell are easily accessible by competitors that have physical stores.
Make sure that the user can immediately tell that your store offers free shipping by placing a section in the center of the header, like this brand: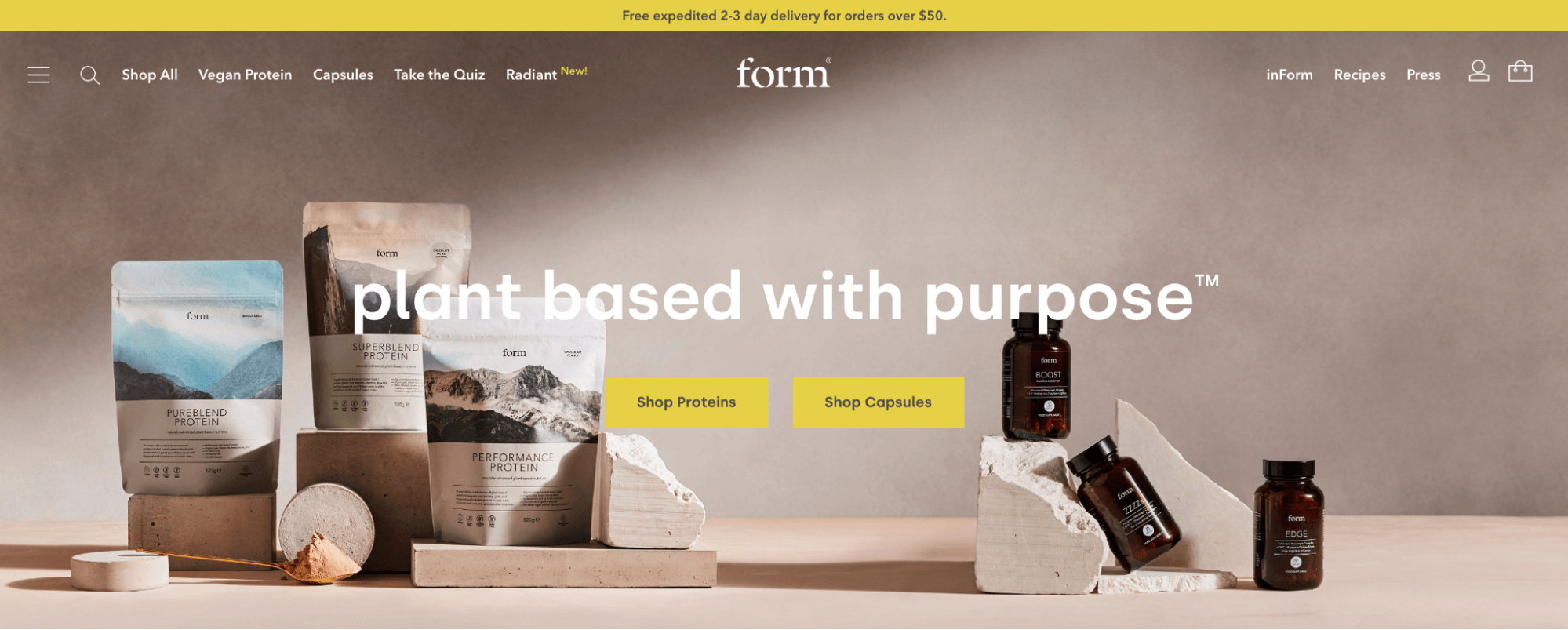 Address cart abandonment
According to Salecycle, the average eCommerce cart abandonment rate is 80.68%.
This means that if you want to increase your conversion rates, re-capturing cart abandoners is crucial.
How do you do that?
Capture emails
The first step is to capture emails so that you have a way of communicating with cart abandoners.
Setting up an email-capturing feature is more on the technical side and it depends on which email marketing software you use. It also may require a developer. You can check this article for more information as it particularly relates to MailChimp.
Nail cart abandonment emails
Before we discuss cart abandonment emails, let's take a look at common reasons why people abandon their carts: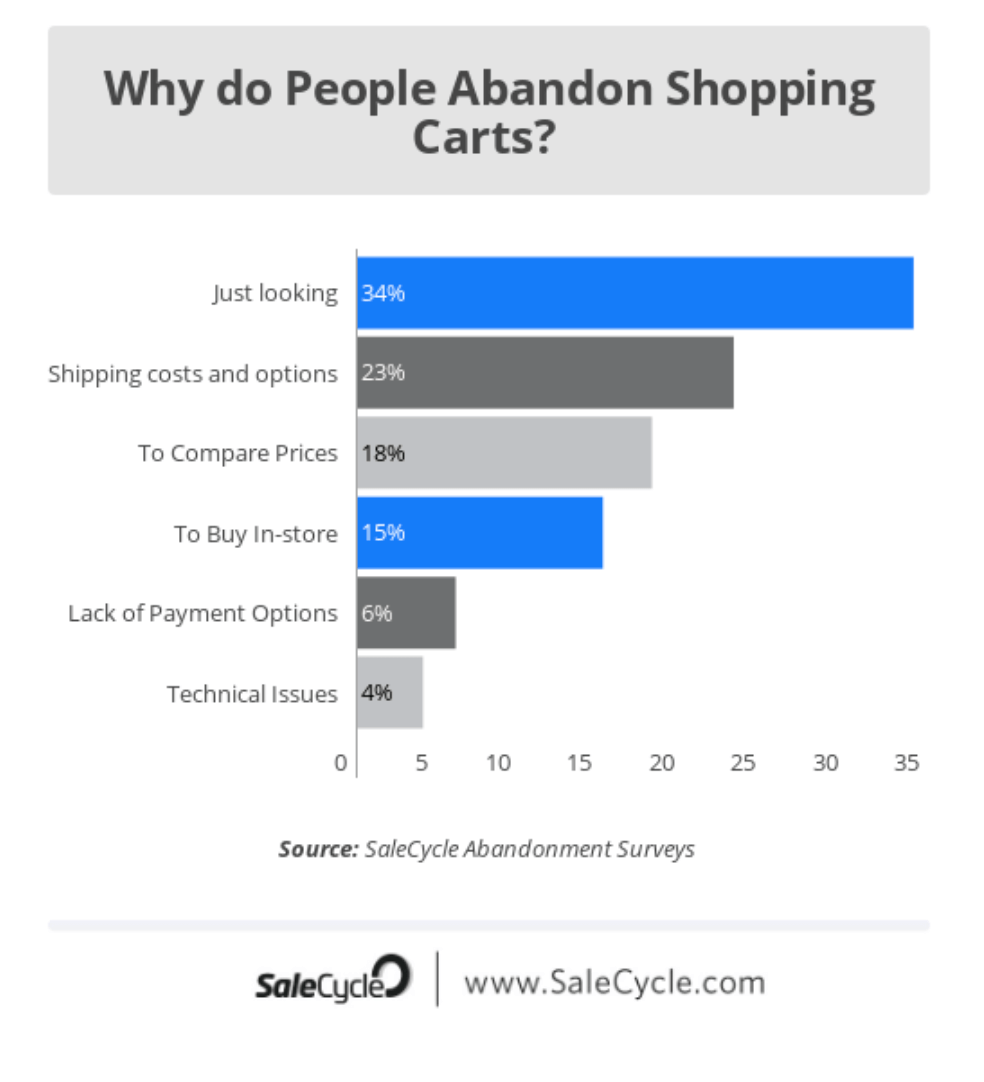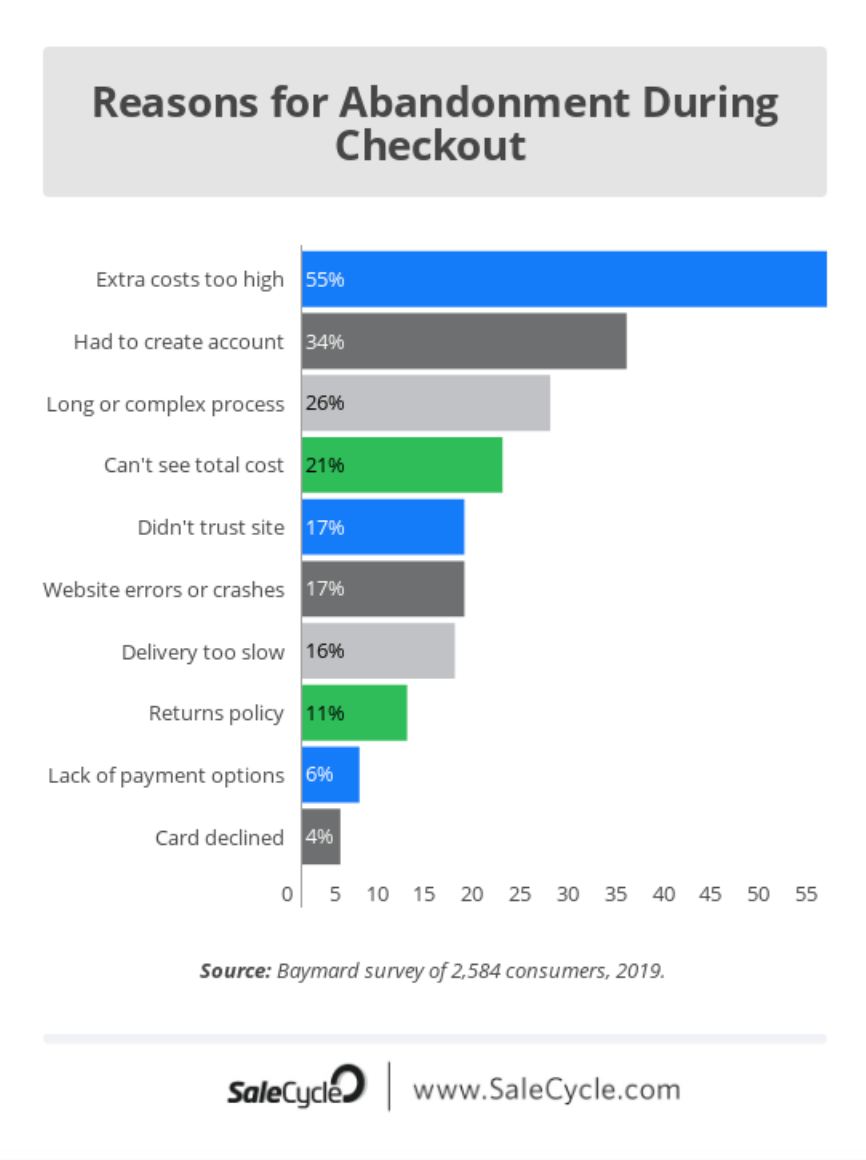 As you can see, the top reasons for cart abandonment are "just looking" (which probably means the user wasn't 100% sure about the purchase), cost considerations, and a long or complex checkout process.
If you follow our previously mentioned advice of easing the checkout process and offering free shipping, you're already resolving some of these problems
Here are strategies to keep in mind when creating a cart-abandonment email:
Offer a discount or promotion. By offering a discount or a promotion (such as offering free perks), you can resolve the "cost consideration" objection and also improve the cost-to-benefit perception. To make this strategy even more effective, add a time limitation to the discount or promotion to encourage quick action.
Remind customers of the benefits of your product. If someone added a product to their cart, it means they were interested in it. Perhaps they just need more information or a reminder of the benefits of buying your product.
You can also include benefits of shopping with your brand, such as free delivery and a money-back guarantee.
Add social proof. Include the number of previous purchases, reviews, and product ratings to establish trust.
Here are some examples of emails to inspire you: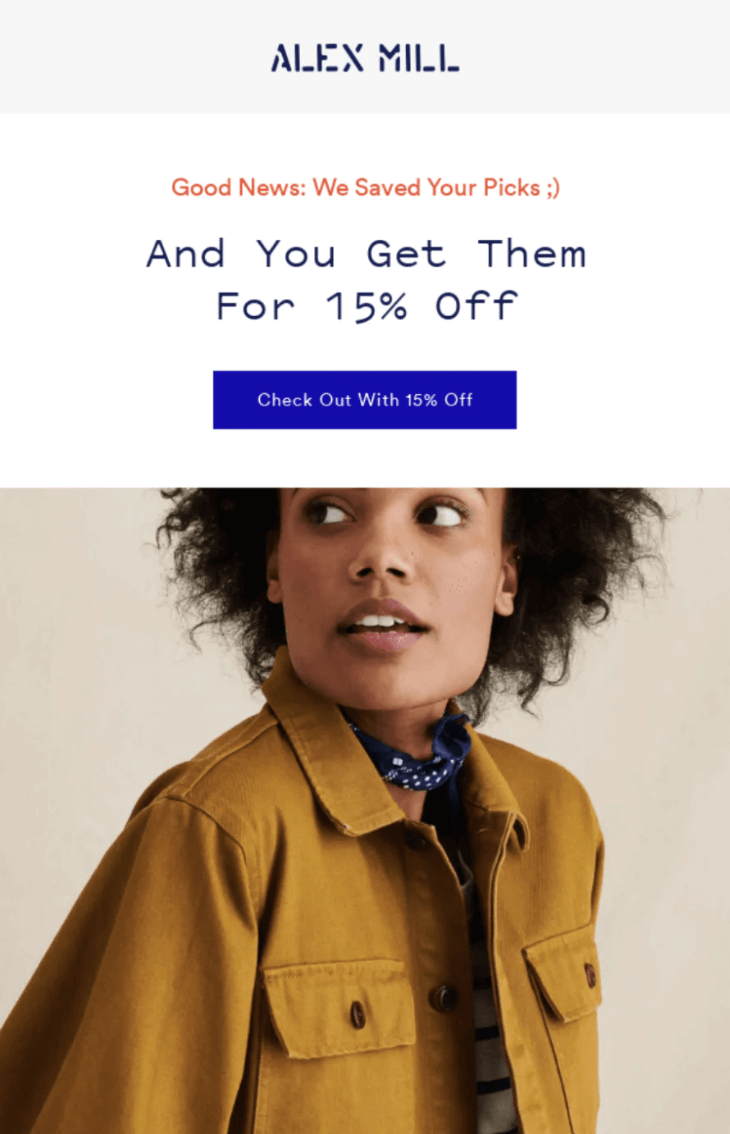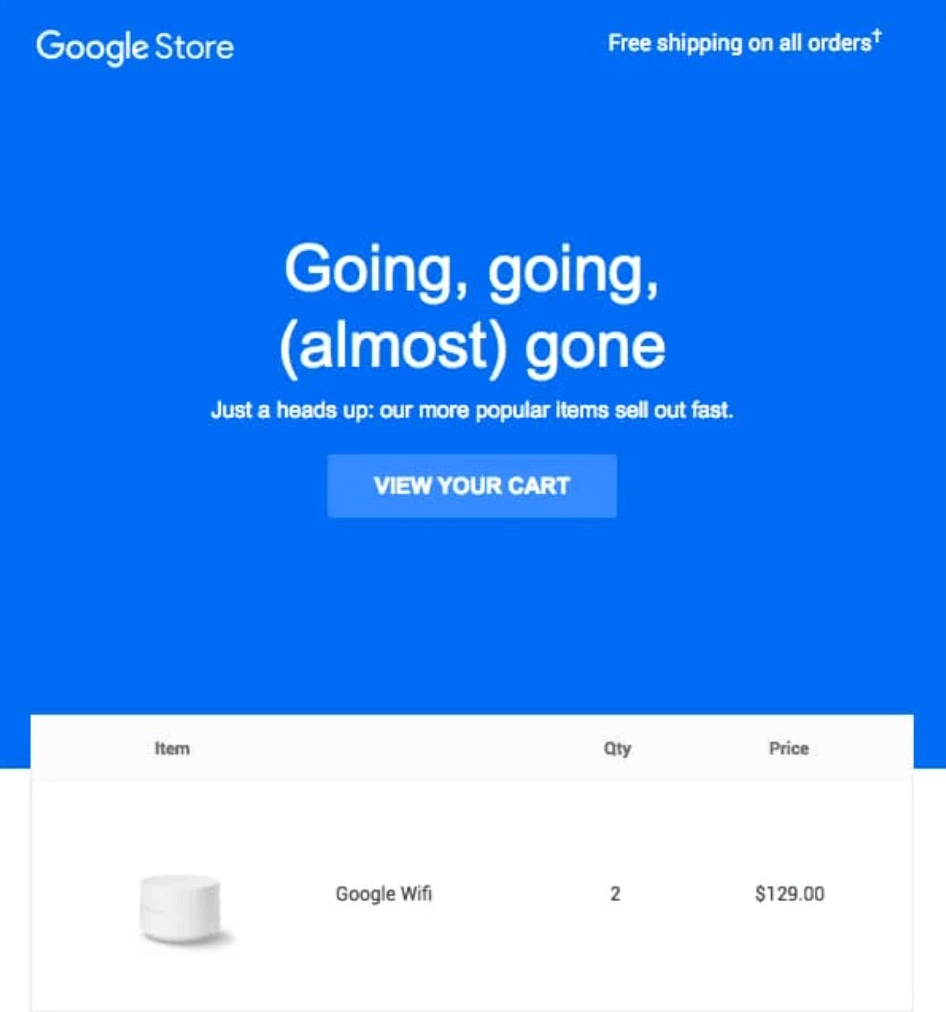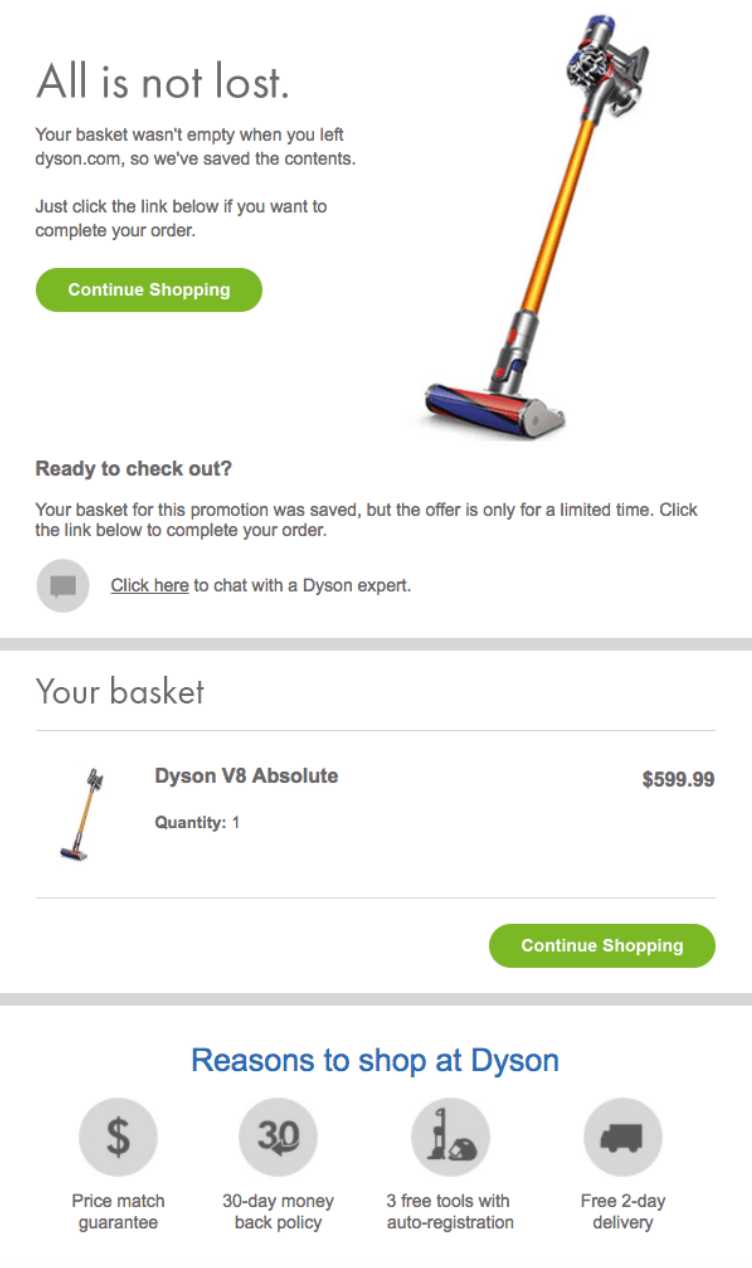 Support more payment methods
Adding more payment options is an easy way to ensure you don't lose conversions due to an inability to pay.
Be active on social media
IOS 14 updates have made it harder than ever to profit from paid ads.
Having a social media presence is a well-known best practice for eCommerce success, and it is now more crucial than ever.
To ensure a successful social media strategy, take note of the following tips:
Have a content strategy. To persuade people to follow you and establish a relationship with followers, you should share content that they find helpful and interesting and that they genuinely enjoy engaging with.
Stay native to each platform. Different kinds of content perform better in different channels. Instagram should ideally include pictures and reels, while Pinterest performs better with content that is inspirational in nature.
Engage with followers. By asking questions, responding to comments, and encouraging engagement, you can build a relationship with your followers and in turn make them more likely to prefer your brand over competitors.
Encourage user-generated content (UGC). UGCs are content that is generated by users rather than brands. There are many ways to encourage users to create content. For example, you can create a hashtag that encourages people to share pictures and videos of them using your products. UGCs are a great way to engage with followers while also boosting social proof and getting free exposure (since creators are basically promoting your brand indirectly).
Allow people to shop through social media. Certain social media channels like Instagram allow you to set up a shop so that users can purchase directly from there. This makes the shopping experience smoother and more likely to happen because it's available in multiple channels rather than on your website only.
Use influencer marketing. Influencer marketing is a cost-effective way to boost your conversions. Since influencers have loyal followers who trust them, having them promote your products can significantly boost sales because their audience is likely to respond positively. Moreover, influencer marketing boosts your credibility, making prospects more likely to trust your brand.
Here's an example of a makeup brand that shares makeup tutorials as part of their content strategy: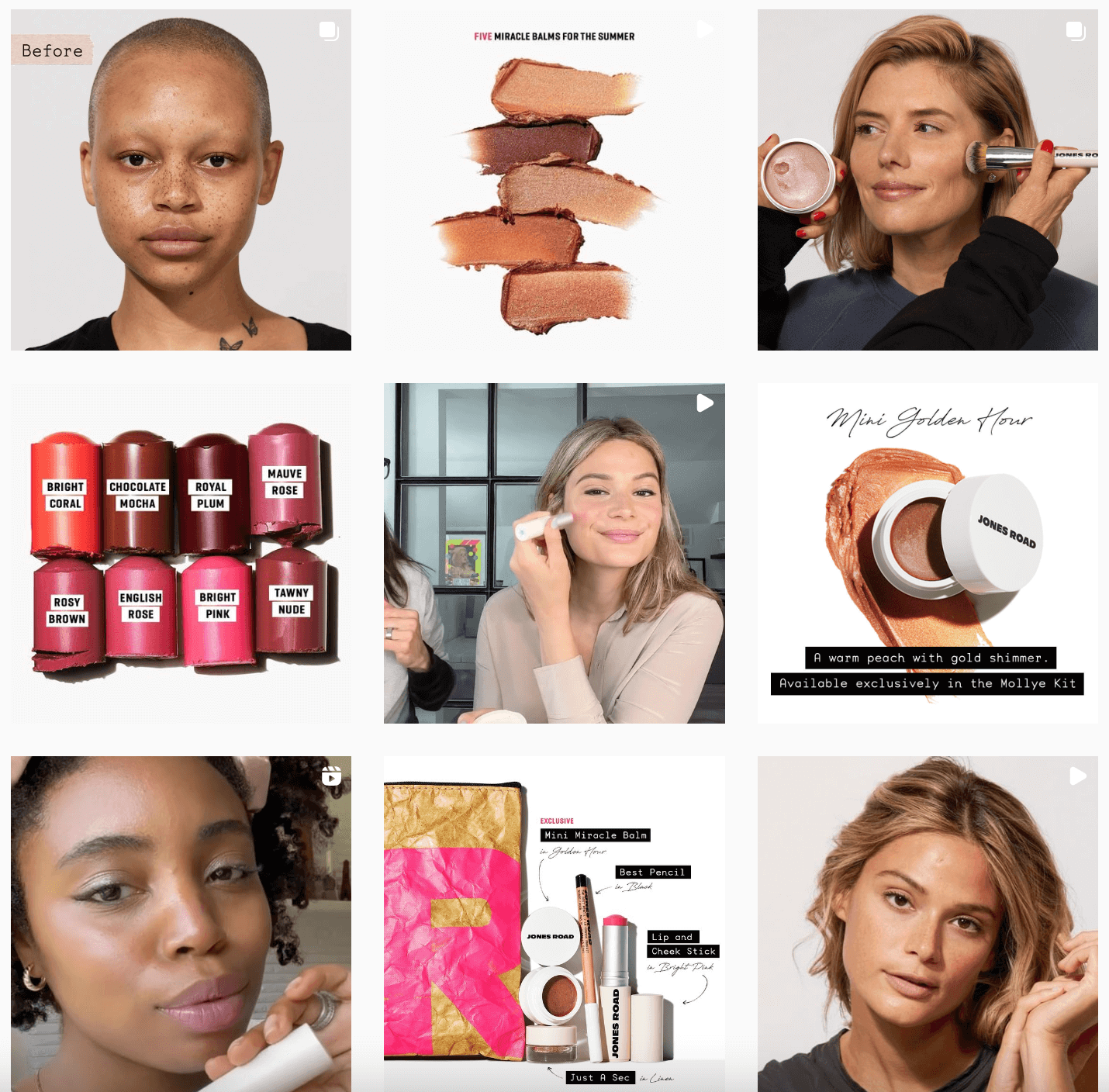 They also include product guides to make it easier for customers to choose products and use them correctly: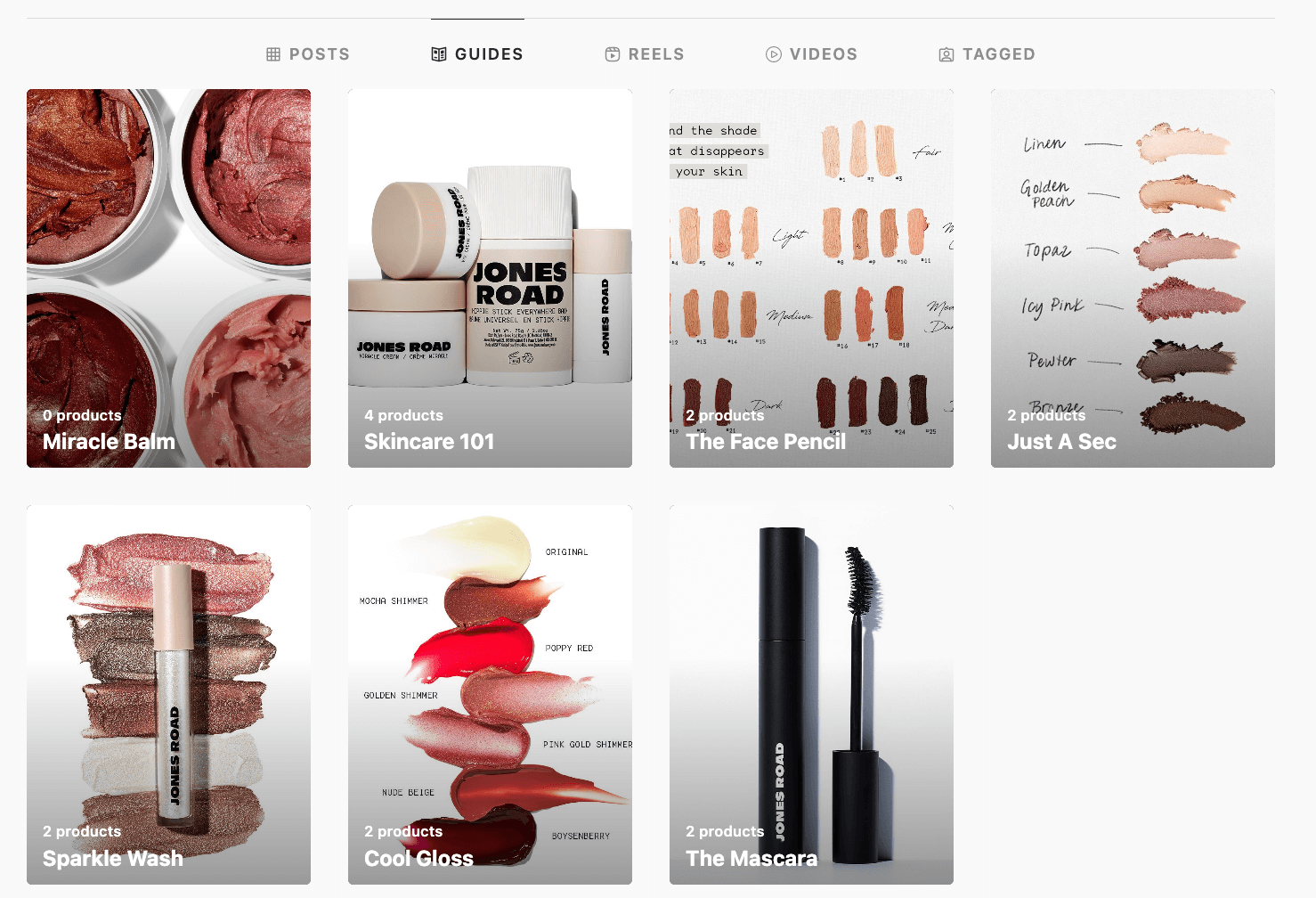 Closing off
We hope this article helped you understand how to increase your eCommerce conversion rate.
If you need help, feel free to contact us. Our team has generated over $35,000,000 for our clients, and we're always looking forward to helping other businesses succeed!