7 Reasons Why You Can't Scale Your Ecommerce Store
Isn't it frustrating when your online business isn't growing at the speed you want? It happens and it's common.
Some ecommerce brands will scale up fast, while others will reach a plateau.
The good news? It's fixable.
How? By looking at the data, of what's working and what's not, and honing in on the details of what's preventing your business from scaling.
And if you're using Facebook ad campaigns to grow your business, it's vital to make sure you're targeting the customers you actually want, right?
Let's walk through a few reasons why your ecommerce store isn't scaling, so you can move forward and evaluate your next move.
Your Target Market is Small or Niche
We often see this with local businesses like gyms, spas, restaurants, and other brick and mortar stores in a specific location.
The reality is, it's tough to scale this type of business.
Especially if the target market is small or capped (which still has its advantages, but scaling and going big looks very different compared to a company with a larger reach like an online clothing store).
So spending money on robust FB ad campaigns may not lead to generating more purchases or customers.
For example, we worked with a client running a crossfit gym. Our ad campaigns were aimed at generating leads for new gym memberships.
So we promoted a challenge with an offer (12-Week Challenge with 40% OFF) which reached 11,000 people.
But since the gym can only accommodate a certain number of gym-goers, we had to stop FB ads.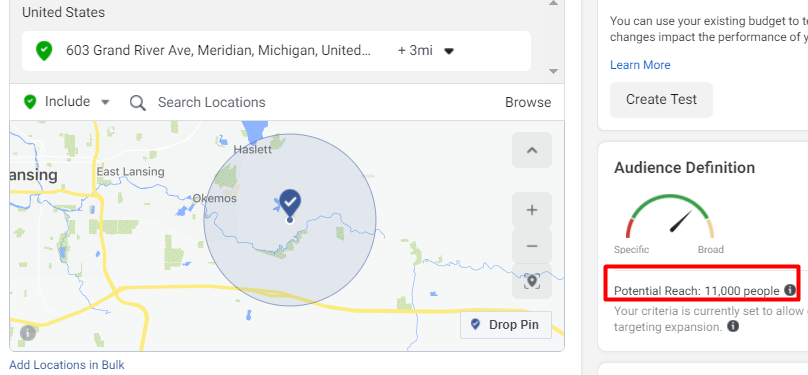 As a small local business, you probably don't want thousands of customers right away. So reaching as many people as possible isn't an appealing long term goal.
And this can happen even with an ecommerce business.
The chances are lower but it's still possible if say, your target audience isn't on Facebook.
(That's right, not everyone uses Facebook!)
If you're ‌targeting‌ ‌a professional audience who hangs out on LinkedIn, or a crowd who prefers TikTok or Clubhouse, promoting posts on Facebook likely isn't the best fit for your marketing or advertising dollars.
Facebook ads are still powerful when growing any type of business, but it takes knowing your business, audience, capacity, and growth goals to ensure you have a clear vision and understanding of scaling up.
Your Business is Seasonal
If your business operates on a seasonal schedule, this too affects the performance of your ad campaigns.
The results will differ throughout the year like a client of ours that sells umbrellas—where the product obviously sells at a higher rate during certain seasons.
But it's tough to scale a business if there is no demand for a product.
Here's an example of how we scaled an ad account when the demand was high:



But when the results are low, there's nothing to scale:

So when your business is slower, it's wise to wait until the high season again to focus on your ad campaigns.
These tactics might help during the off-season:
Offer off-season specials (like a "flash sale" or one day sale). This is probably the easiest way to attract customers during the off-season.
Giveaway or contest (as a continuation of the previous one).
Pushing referrals more. Offer a reward to existing customers and ask them to refer you to someone else who might want your service or product. You can also offer a discount coupon or a gift card for referrals.
You Profit Margins Are Low
When the price or order value of your product is too cheap or low (e.g. less than $10), this affects your overall return on ad spend (ROAS).
Because when you look at the average expenses for delivering ads, it's unrealistic to reach a positive ROAS unless your product goes viral (and your cost per purchase is $5 or less).
Then there are the shipping costs, marketing, and other expenses to consider too. And without a healthy cash flow upfront, it's hard to advertise successfully.
Today, Facebook advertising is tough in the US if your product is selling under $30. So your average order value (AOV) is very important if you want to drive traffic in 2021.
Here's an example of one of our clients who has an anti-smoking product under $30.
Since the AOV isn't high, the ROAS doesn't look promising either. So scaling up can't happen as fast without increasing the AOV.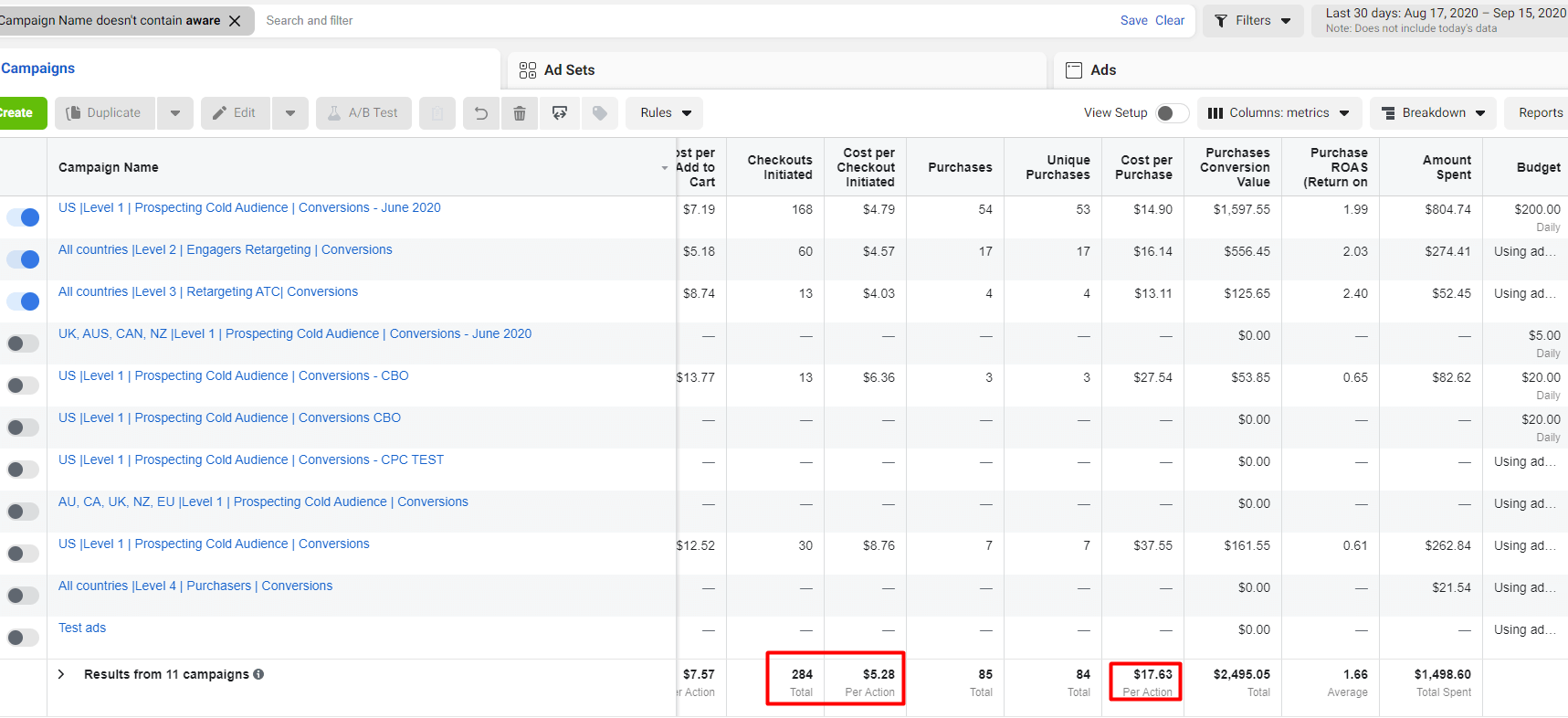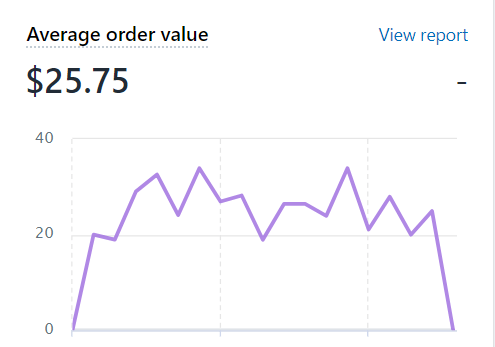 Note: It's important to remember that it's normal to get a lower ROAS (higher cost per acquisition) as you scale your ad campaigns. But if starting with low profit margins, it's more difficult to scale.
Your Product Serves Demand Capture
Products that are serving demand capture are also not the best for scaling with Facebook ads.
But wait, what is demand capture?
Demand capture is when people are already searching for something they need or want.
But they might not be influenced to purchase something just because they saw an ad.
For example, we work with moving companies and businesses that provide vehicles for transportation. So even though showing an ad can raise awareness of the service, seeing the ads doesn't necessarily make people want to hire the company and move.
So these products or services may also have a limited scaling potential with ad campaigns.
Facebook ads are more about demand generation (creating demand for a product by educating people), which tends to be easier to scale.
A quick reminder for any business: Don't forget to make your product the best it can be by working to improve it, investing in different product lines, and staying ahead of the competition.
Your Business Isn't Ready to Scale
Facebook ads are only one element of a successful business.
You can't have an outdated website or poor customer service and then expect to scale it with tons of traffic from ads. Sooner or later, post-click experience kicks in and will affect your business too.
Take a company we worked with that sold honey using FB ads as an example. Sales were steady and healthy but when the business wasn't able to fulfill orders, it resulted in many unsatisfied customers (who are unlikely to be repeat customers). This eventually led to a low Facebook page score and the inability to advertise.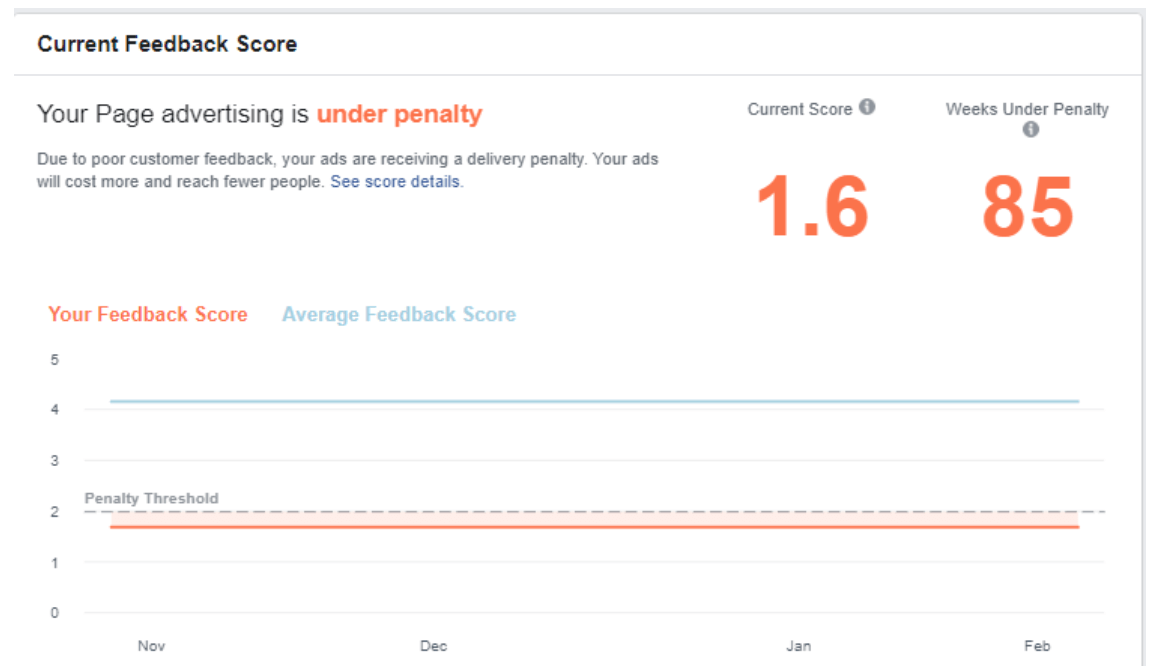 So your business needs to be ready, and prepared, to scale.
It needs to be able to keep up with customer and product demand by making sure your business has enough time, help, stock, etc.
Let's look at repeat customers in more detail.
You Need Repeat Customers
A huge part of scaling is focusing on getting new customers, right?
For many, repeat customers are the main source of profit for businesses, and this consistent cash flow ultimately helps with acquiring new customers.
So if your repeat customers are close to nil, it's hard to maintain a successful business over time.
For example, our same client that sells umbrellas has a lifetime guarantee for their products so customers are less inclined to reorder.
Also, if you have a poor quality product or service, there's a good chance that people won't buy from you again.
Here's a look at one of our clients selling jewelry and our level 4 campaign for existing customers:

Generally speaking, if you can't get your ads profitable by targeting existing customers, there's definitely something wrong with the product, customer service or shipping.
Want a closer look at our multi-level campaign structure? Here's how we maximize your ROI on Facebook or Instagram ads.
Your Business Isn't Investing in Social Media or Building a Community
If your product stops going viral, sooner or later the money from direct sales and FB ads will slowly decrease.
This is where having an engaged community and audience will benefit your business—especially if you decide to launch a new product or service.
Companies that have a strong fanbase on platforms like Facebook or Instagram (real human fans, not bots!) will have a much easier time with their ad campaigns.
And see better results from them too.
Plus, we all know that when you build that "know, like, and trust" factor and have solid social proof, more prospects will see that your business is the real deal.
And a legit business = more customers willing and ready to buy.
Conclusion
There are tons of tactics out there on how to scale your ecommerce business the "right" way.
But let's be honest.
There are many moving parts when it comes to growing your business and using Facebook ads.
If you're experiencing any of the above reasons or challenges, then FB ads might not be able to boost your bottom line the way you expect.
But when you know how, and when, to use FB ads to your advantage, that's when it has the power and potential to help you scale up.
So if your ads aren't giving you the results you want, but your gut is telling you to keep using ads, reach out to our AdTribe team here.
We take care of every facet when it comes to scaling ecommerce businesses with winning ad campaigns, so you can sit back and literally watch the dollars multiply.