How to Grow Your Number of Instagram Followers Fast
When done well and successfully, Instagram plays a key role during every step of the purchasing process.
How? People use the platform to learn what's trending, research products before buying, look for reviews or proof, and decide whether or not a brand is trustworthy or engaging enough to make a purchase.
87% of people in a survey said that they took action after seeing product information on Instagram. This includes following the brand, visiting their website, or making a purchase online.
But unless your Instagram posts and videos constantly go viral, organic overnight success on Instagram is rare.
Like any sales funnel or strategy, the process to turn strangers into followers and then customers takes time.
So how can you grow your Instagram followers faster?
By sticking to a creative, authentic strategy that works for your business.
Here are 7 ways for getting more Instagram followers fast.
1. Reveal your story
Potential customers and followers don't scroll through Instagram because they want to be sold or pitched to, they want to learn or gain something that will make their lives better.
Whether that's looking for inspiration, funny memes and viral videos, or information to help them make a decision, Instagram has the power to introduce and inform your customers about who you are, your core values, why your products are worth buying, and so much more.
Technically, you can post at the best time, and be liking and engaging with other accounts regularly, but if your content isn't resonating with your audience, that's a huge missed opportunity.
For example, the Dollar Shave Club's Instagram feed doesn't always talk about their products.
They also focus on sharing witty and relatable memes to help drive social sharing. This builds the desired brand awareness to turn more viewers into followers, and those followers into paying customers.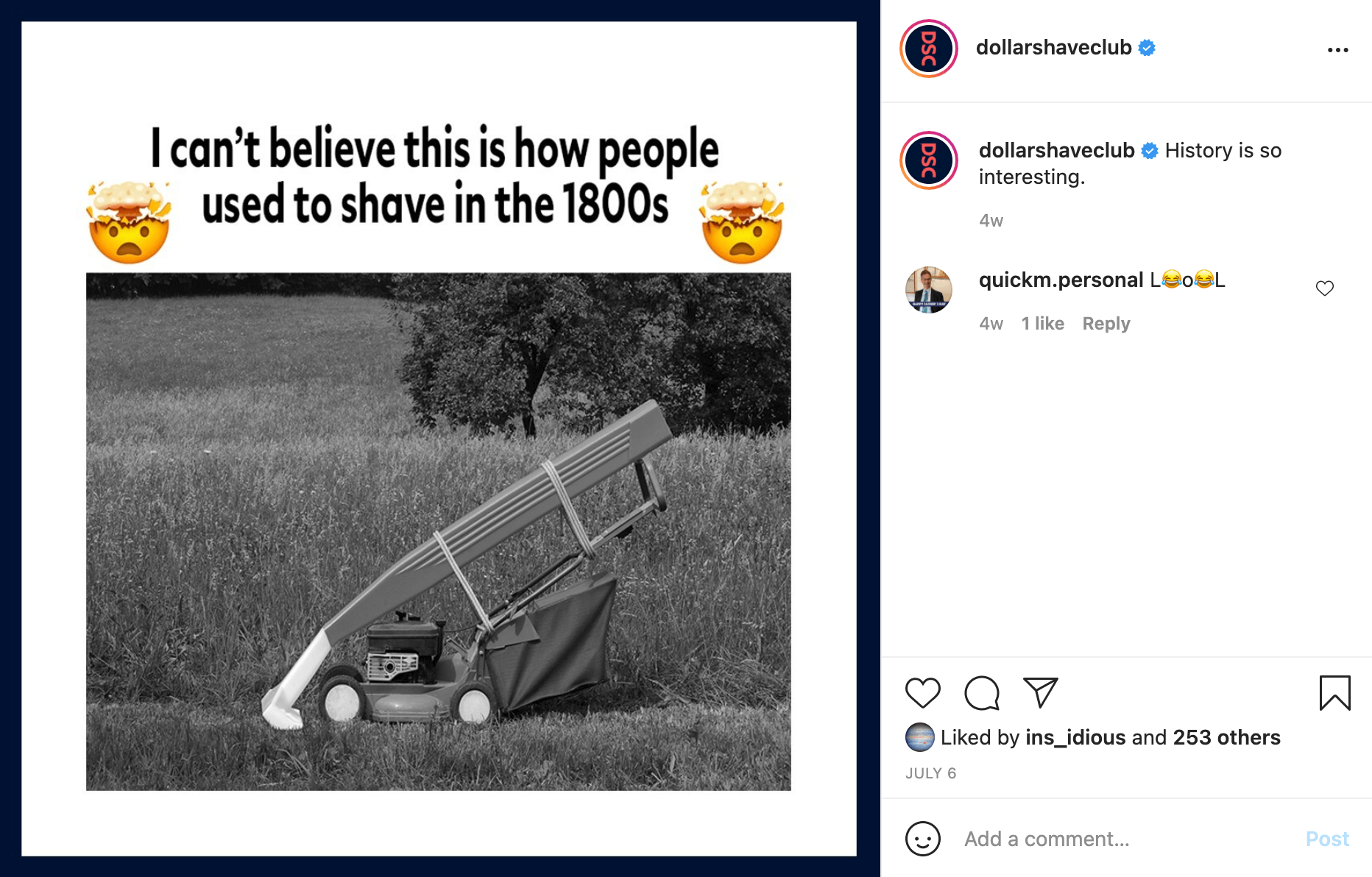 Another way to reveal more of your story is to humanize it by showing more real faces (of yourself, your team, experts, customers, etc.) or a behind-the-scenes of your business.
Here's an example of how the dog clothing brand Ripley & Rue uses Instagram.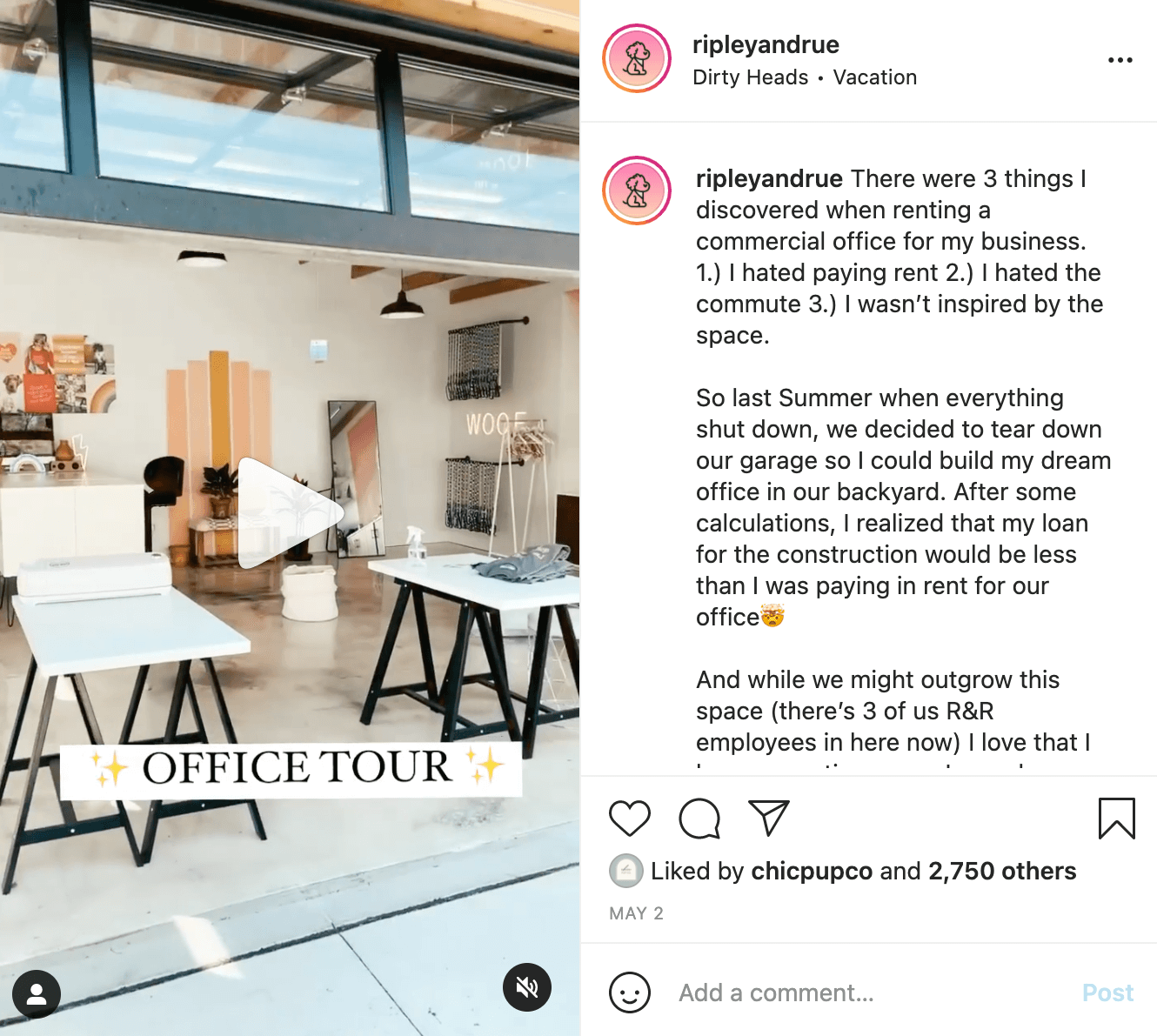 While there are plenty of vibrant photos of their dog products, there are also snippets of their office, the brand's owner, packaging orders, and more.
2. Use the right hashtags
Choosing the right hashtags can make all the difference between your Instagram posts appearing at the top for new followers to see, or quickly sinking to the bottom.
Generic and common hashtags like #fashion or #business already face competition from millions of other accounts. But using a mix of product, industry, or location specific hashtags will allow you to reach a more targeted audience to grow your followers.
For best results? Research your hashtags.
Look at the content under each hashtag to make sure it aligns with your brand or products.
Another successful marketing strategy is to use a branded hashtag, which is one you create to promote an aspect of your brand, business or campaign.
And the benefits of using one? It makes your content discoverable to new followers while driving traffic to your profile. It also organizes your posts and makes your content easier to find or track.
So where do you start when it comes to creating a branded hashtag? Choose a memorable word or phrase that isn't widely used yet and keep it short.
Some good examples are #TheFrankEffect from Frank Body or #FILAstyle from FILA.
Include the branded hashtag in your bio and your future posts so it's visible to new profile visitors and followers.
No one says you only need to stick to one branded hashtag either.
If you have multiple campaigns, products, or want to create a community to encourage user-generated content, create new hashtags with a specific purpose as it fits with your brand or marketing goals.
3. Explain the "how" behind your product
Getting a closer look at your product or service can simplify the buying process while at the same time, amplify the desire and need for what you sell (which equals more engaged followers too).
It's no secret that videos often do better and reach more people on Instagram lately.
In a video published in July 2021, Adam Mosseri, director of Instagram, announced that the platform is pivoting towards more of a short video format.
People go to Instagram to entertain themselves, there is tough competition and there are things to do… We're also going to experiment with embracing video more broadly—full-screen video, immersive, entertaining, for mobile devices.

Adam Mosseri
Since Instagram is focusing on and prioritizing videos more, this means that short product demos, tutorials, etc. have the potential to reach even more people now.
Here's an example of Shiseido's Instagram post with a side-by-side look at the product being used and tested.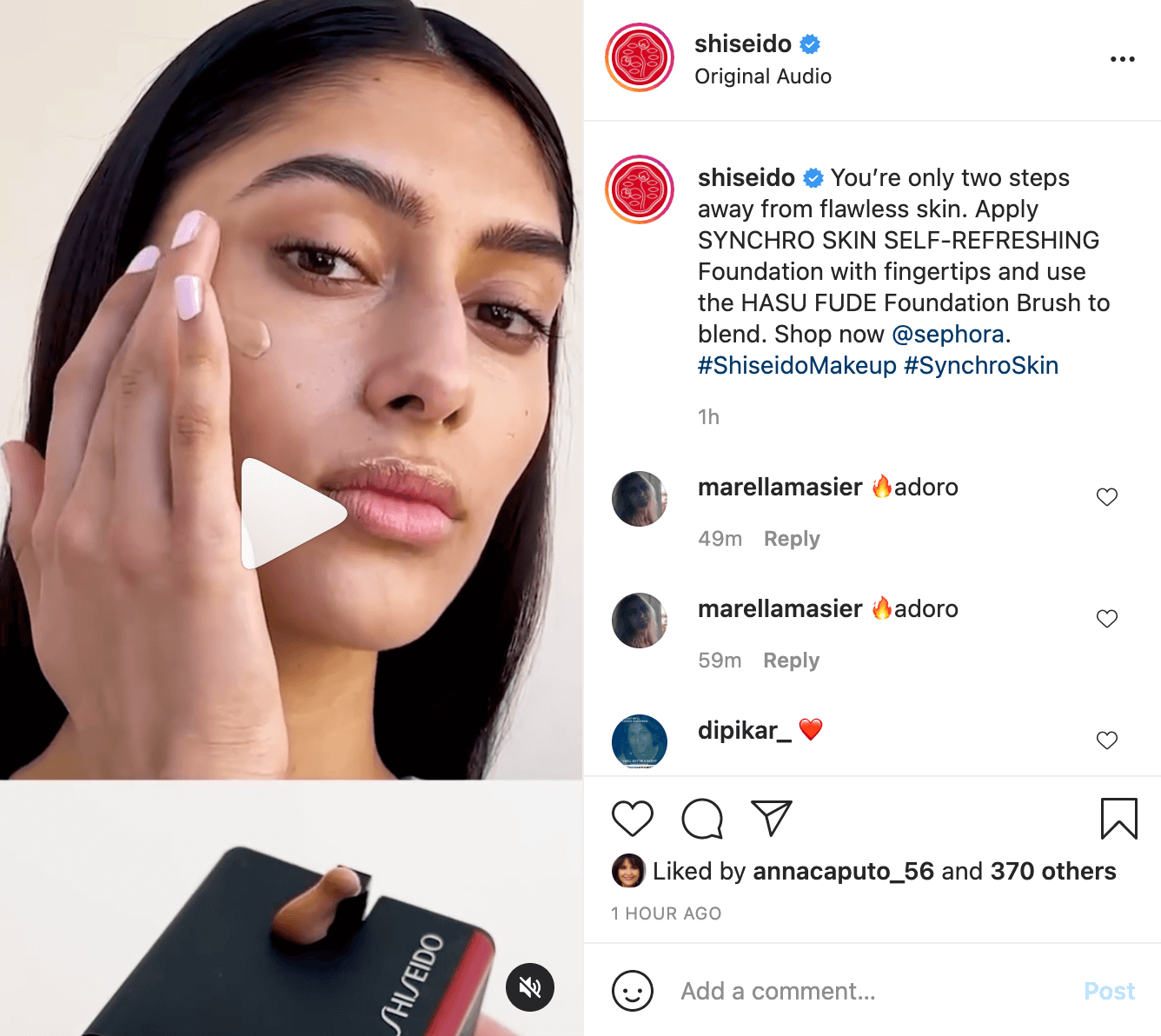 Extra Tip: You don't have to create highly professional or polished videos on social media. Keep your content authentic and true to your brand.
4. Show testimonials and success stories
By now, we all know how powerful testimonials, product reviews, and success stories are, right?
Customers crave social proof.
And by showing real words and stories from real humans, it boosts the trust-factor and legitimacy of your brand making it more likely to get new followers (and to get current followers to stick around).
Followers who are looking to buy will also do their research into not only a brand's story and values, but the good and bad of the product as well.
A few stats to keep in mind:
Here's an example of the positive reviews and social proof that Outdoor Voices received: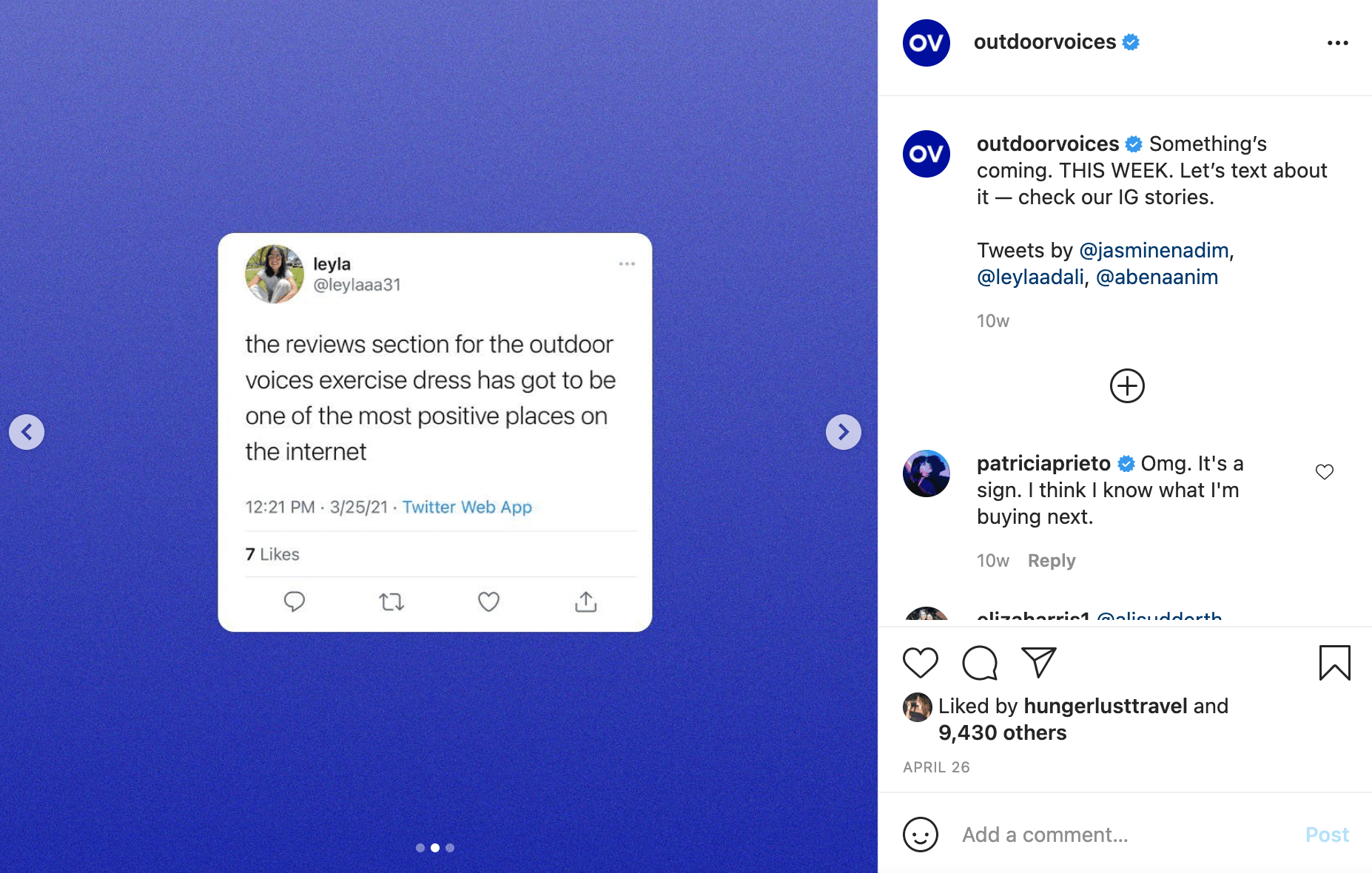 Customer reviews and comments can make all the difference between followers who are hesitant to buy, versus those who are ready and have all the proof and trust they need to make a purchase.
5. Collaborate with influencers
The rise of influencers has led to overnight success for many brands and online businesses. In 2021, the influencer marketing industry is expected to grow to approximately $13.8 billion.
Instagram still has one of the most powerful networks for working with influencers. So if you're looking to grow your followers and sales faster, it's worth it to find users to partner with in your niche.
If you're in the beginning stages of growing your brand—and prefer a product-for-post exchange instead of paying people for sponsored content—look for micro-influencers (usually those with a more devoted audience who have 10,000 to 50,000 followers).
In fact, micro-influencers typically have higher engagement rates at around 2 – 3% compared to 1.7% for macro-influencers.
Tips for finding micro-influencers:
Check out any posts you're already tagged in and see if there are any potential influencers you could reach out to.
Search for popular hashtags in your product or brand's niche. Scroll through the top posts for accounts that might be a good fit to collaborate with.
Scan your recommended accounts and look for any influencers who align with your brand or business.
When you have your list of influencers, make it quick and easy for them to learn about your brand by contacting them using DMs (direct message).
Lastly, focus on cultivating long-term relationships with influencers who are keen to support your brand for the long haul. Because if your business is scaling, you'll want to have a steady and reliable network of influencers for future collaborations too.
6. Host exclusive offers or giveaways
Want a fun and strategic way to focus on follower growth and engagement? Share exclusive offers or host giveaways.
For example, Quip offered a discount on their electric toothbrushes while mentioning how people can earn bonus points and other rewards when using their app.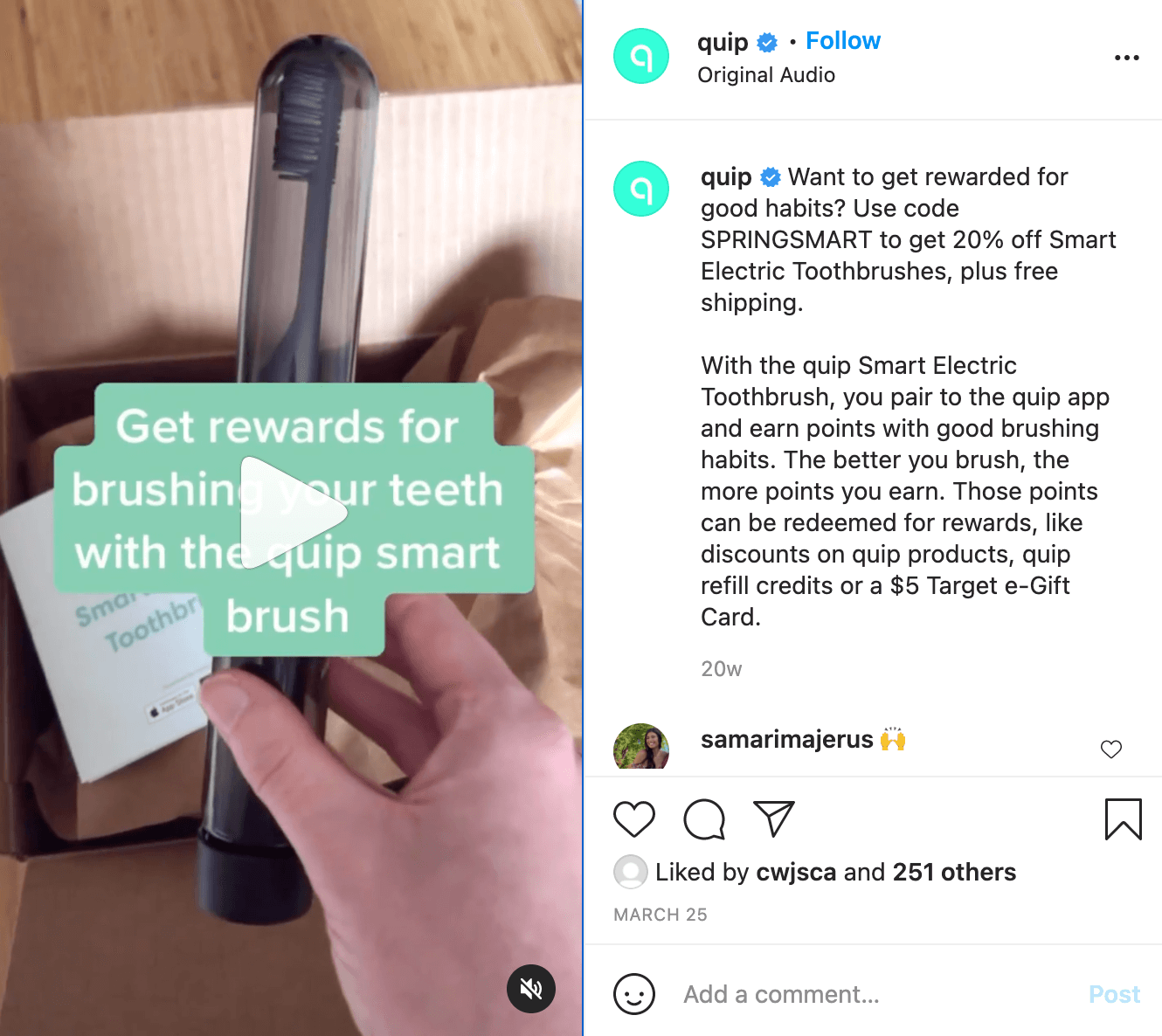 Running an Instagram contest like a giveaway can also boost your follower count and engagement faster.
The cost to followers? Usually a few entry details like: Following your account, liking or sharing the post, leaving a comment while tagging a friend, or using a branded hashtag.
Here's an example of Mob Kitchen's giveaway details: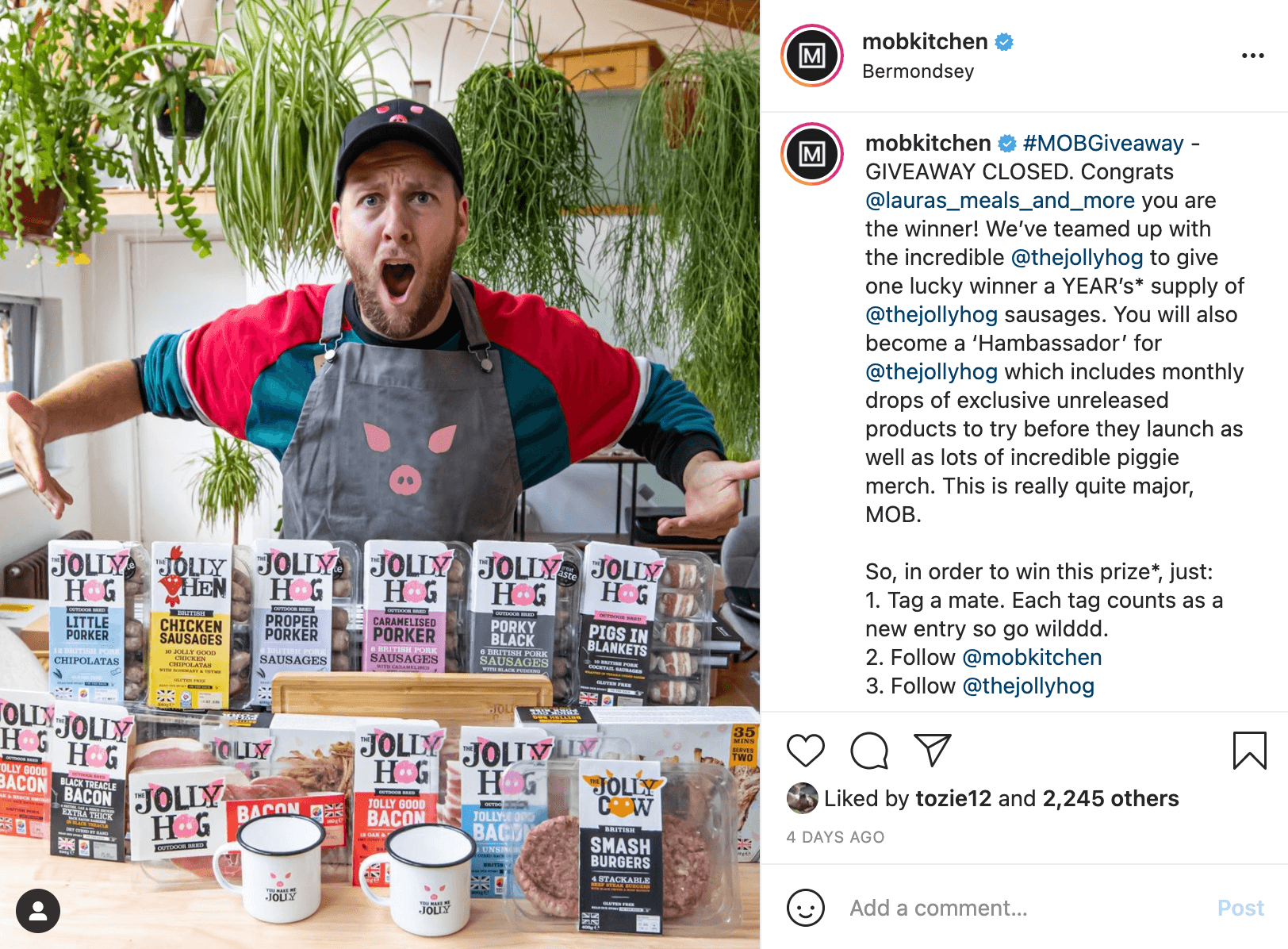 More often than not, followers are happy to enter a contest or giveaway—if there's something in it for them of course.
And if the giveaway is a success, this can be a fast and consistent way to increase your brand awareness, engagement levels, and follower count.
7. Run Instagram ads
Another way to grow your number of Instagram followers?
Paid ads.
No list of tips to get more Instagram followers is complete without mentioning the power of advertising.
After all, it's the tried-and-true method for getting more eyes on your business or products.
While organic growth is free and can work over time, paid ads can work to increase both post engagement and your follower count.
So what is post engagement?
Engagement refers to any type of interaction your audience takes on your content. For example, clicking a link, leaving a comment, viewing a video longer, liking or sharing a post, etc.

And the more interaction your post gets, the more likely it is for those interactions to turn into followers (and then repeat, paying customers).
Conclusion
Instagram can help your eCommerce business grow in many ways especially when you have a loyal follower base.
Think of it as a platform to share smaller aspects of your product, collaborate with users or influencers, gather customer research or make it easier for new followers to find or trust your brand using these ideas:
Reveal your story;
Use the right hashtags;
Explain the "how" behind your product;
Show testimonials and success stories;
Collaborate with influencers;
Host exclusive offers or giveaways;
Run Instagram ads.
If Instagram is low on your task list (but you're ready to take advantage of its advertising capabilities), let our AdTribe experts handle all things ad-related.
We'll help you leverage every dollar invested so you're seeing profitable results and growth in no time.
Sound like an awesome plan? Say hello and connect with our AdTribe team here.