Evergreen Email Marketing 101 for eCommerce Stores
Are you prioritizing your email marketing strategy? Here's a nudge to say that it's worth moving this higher up on your business plan to-do list.
Email is without a doubt one of the most effective marketing channels for eCommerce stores and businesses.
According to Campaign Monitor, for every $1 spent, email marketing generates $44 in return (that's an impressive 4400% ROI!)
A few other stats to keep in mind:
You are 6 times more likely to get a click-through from an eCommerce email campaign than you are from a tweet.
24% of visitors from email marketing buy something compared to 2.49% of visitors from search engines or 0.59% from social media
So how do you squeeze more of this juicy ROI for your eCommerce business?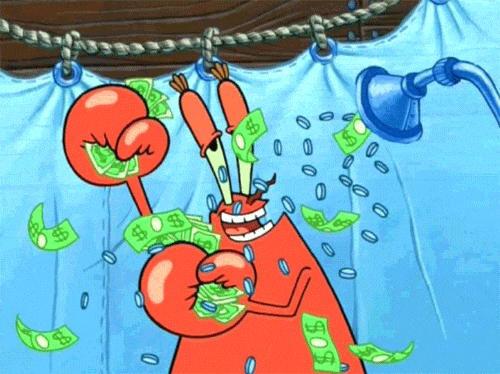 We'll walk you through how to start your email marketing so your eCommerce store can generate more money as soon as your campaign goes live.
Consider this your email marketing 101 guide. Let's dive in.
Email Service Provider Setup
There's no shortage of email service providers on the market. From Mailchimp and Klaviyo to Campaign Monitor or Active Campaign, this is just the tip of the iceberg.
Most of the clients we work with are fans of Klaviyo, an email marketing platform that has one of the best integrations with most eCommerce sites like Shopify, Bigcommerce, etc.
But before we get to the sexy part of email marketing (creating the content, list building, or email sequences), you have to get setup on your chosen email service provider first.
It's not rocket science, but basic tech-savviness goes a long way.
Here's an example of getting setup and started on Klaviyo:
Step 1
Connect your email platform to your eCommerce platform. If you decide to use Klaviyo, go to the Integrations section, find your eCommerce platform and click on Add Integration.

Step 2
Populate your product data feed, which can be used to generate product recommendations in an email. This feed will pull product information from your eCommerce integration and display this information in an email template.

Step 3
Make sure tracking pixels are installed so you can track users' behavior. If your store is on Shopify and you use Klaviyo, ensure you check the box off in this section. This will automatically populate all tracking events like cart abandonment, browse abandonment, and purchases from a built-in integration or API.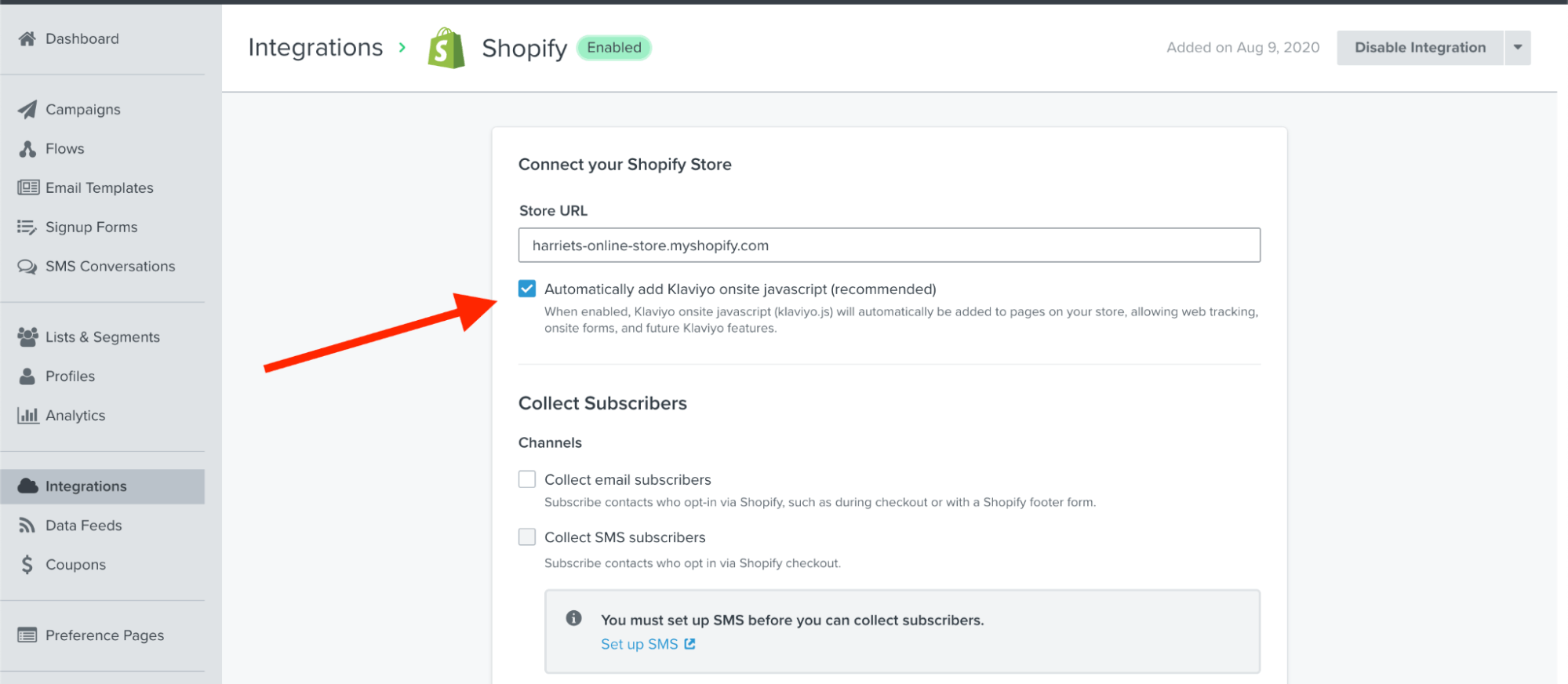 If you're using an eCommerce platform that doesn't have built-in integration with Klaviyo, you can still use this amazing tool. To enable web tracking, all you have to do is copy short snippets of code provided by the email service provider to your site.
Also, double check that you integrate Klaviyo with Facebook or other advertising platforms to sync lists and segments for Custom Audience Creation.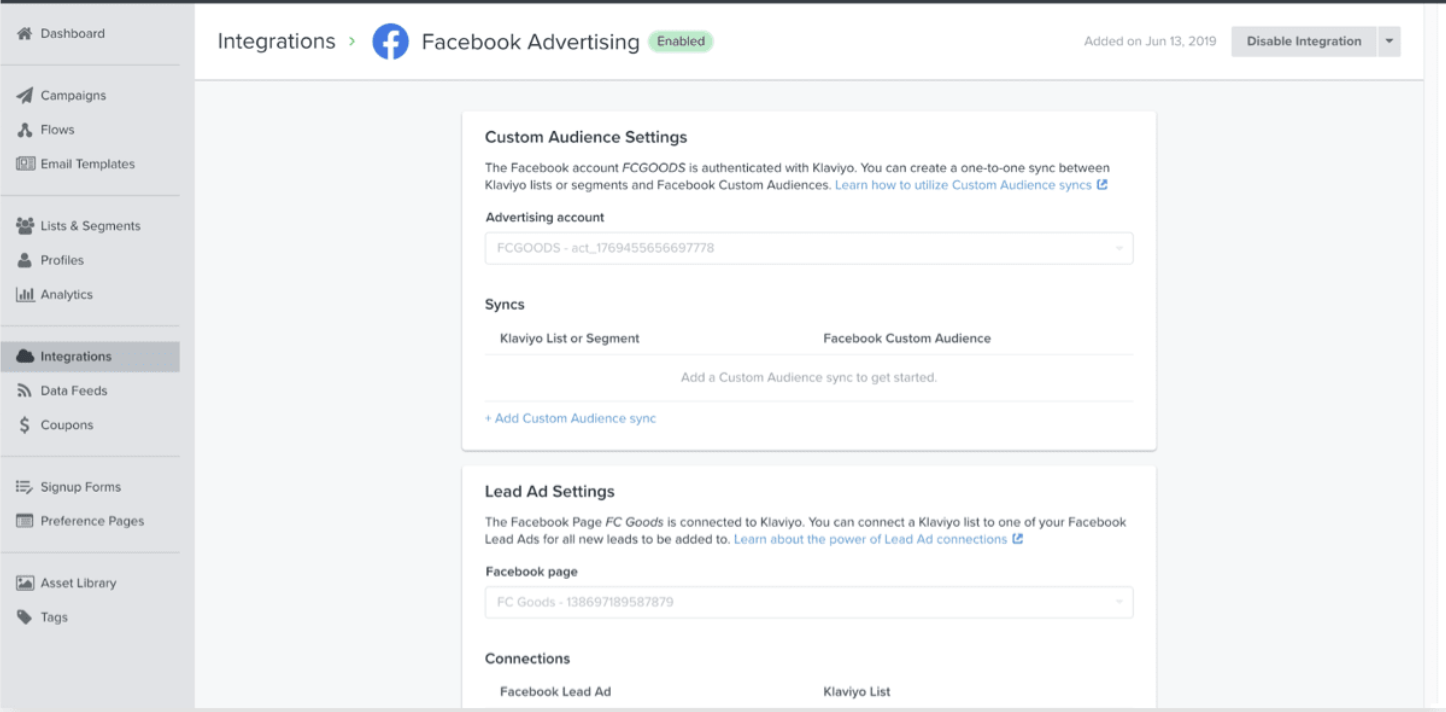 Build Your Email List
To leverage all the benefits of email marketing, an email list is a must. From day one, building an email list should be a top priority for your brand. One of the best ways to start growing your list fast? Use email popups.
A popup is a form that usually appears at the top of your website or on the page that your potential customer happens to be viewing. When the popup appears, the webpage typically has a darker background so the form stands out.
Here are a couple of examples: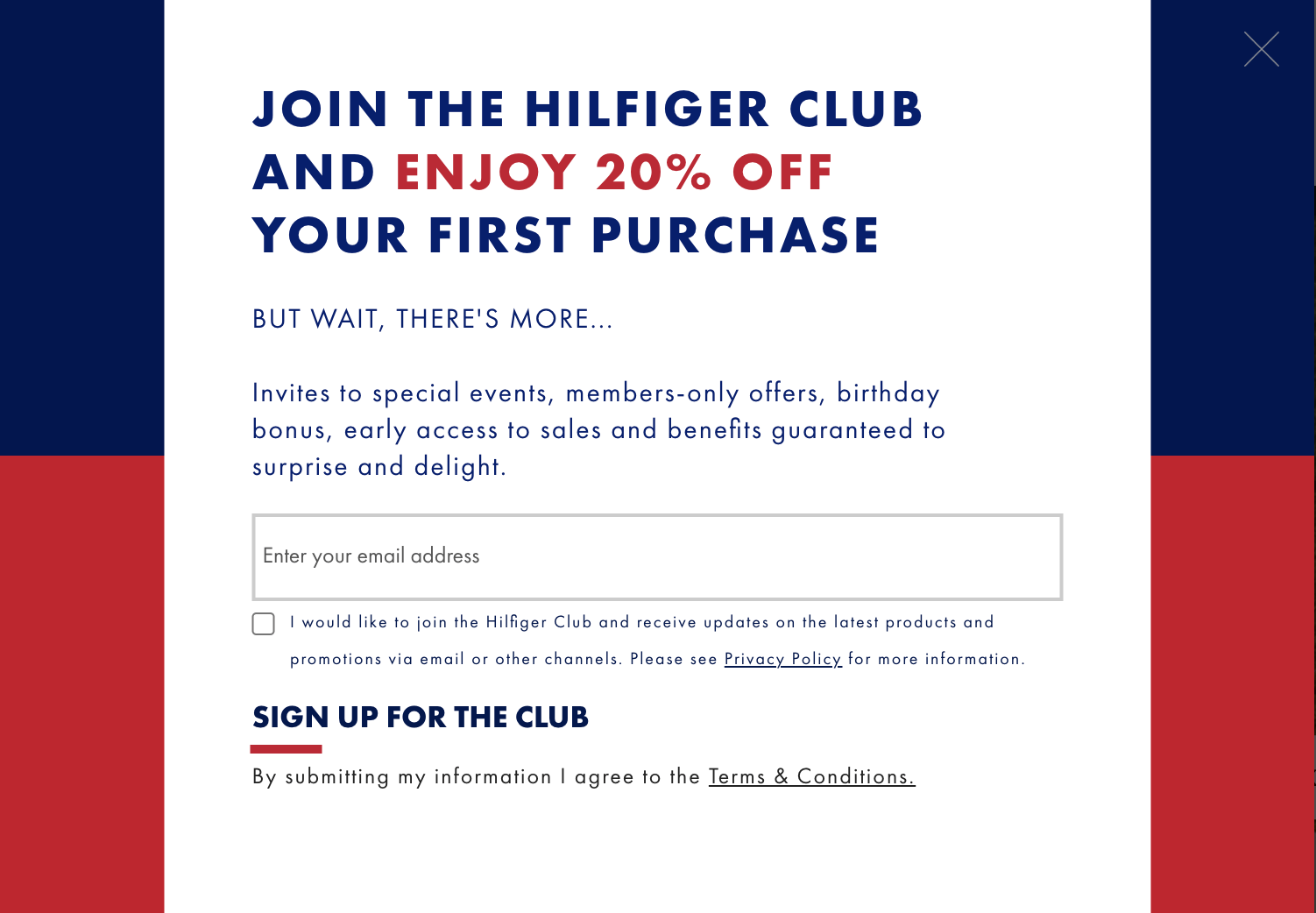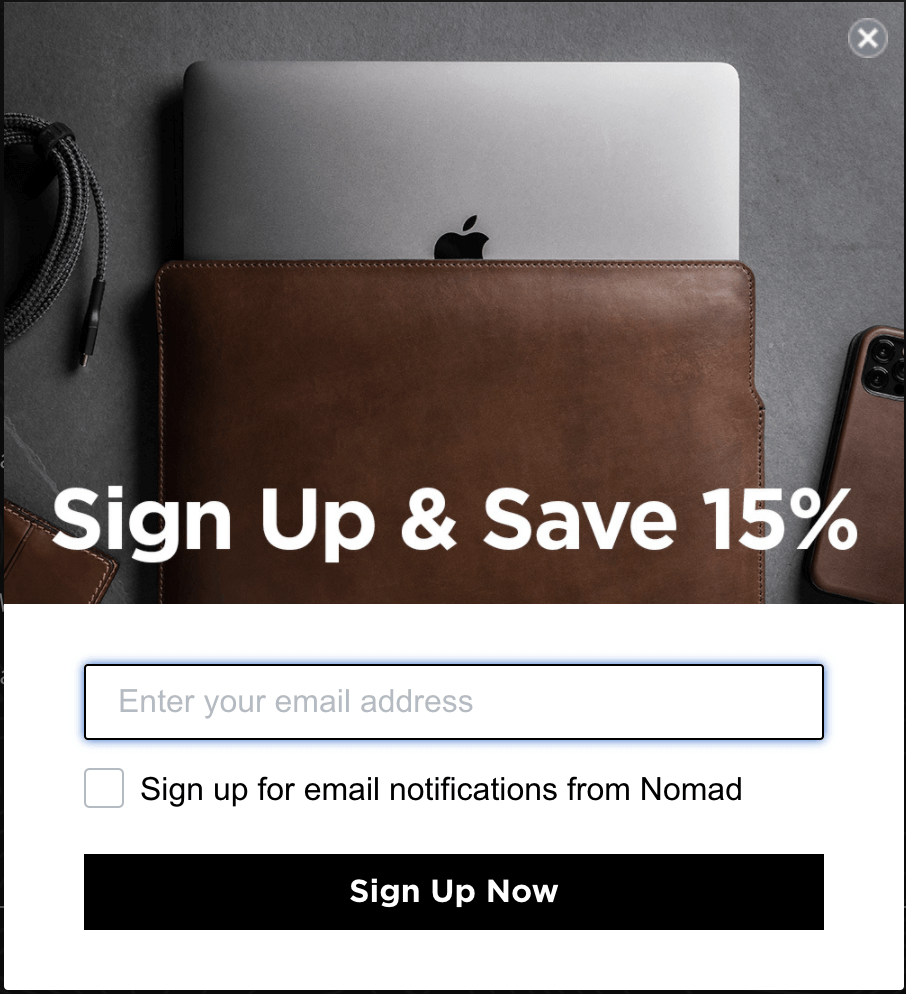 When building your first email popup, here are some questions to consider:
How fast should the popup appear on the page?
Where will it be displayed?
What incentive will I use to encourage more email signups?
What colors or graphics will I use for the form?
The main rule of thumb when it comes to popups is to always keep the user experience in mind. Look at it from the perspective of your customers and what they would like to see in a popup. Another tip is to visit your website or online store in "incognito" mode so you can take note of what's working and what's not.
Spend some quality time considering the incentive you want to use too. Without one, there's little reason for your subscribers to check their inboxes right away. You also want to attract people who will stay on your list for the long term, rather than those who drop off early because they only want free stuff.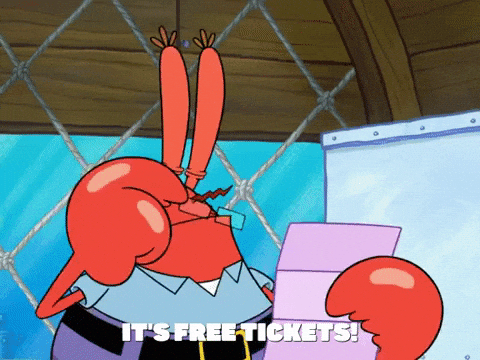 There are plenty of tools for building popups that have easier drag and drop features but in our opinion, Justuno does this job the best. This tool is excellent for testing but after reaching 10K subscribers, the price gets hefty.
Our recommendation? Use this tool to find a winning variation and then move to Klaviyo for your evergreen popup.
An alternative to using popups (since some people aren't fans) is to include an in-line footer on your website for email captures. This is useful for those who find popup boxes annoying, don't trust the popup boxes, or those that scroll around and then decide to sign up.
Here's a look at the abandonment email funnel from one of our clients: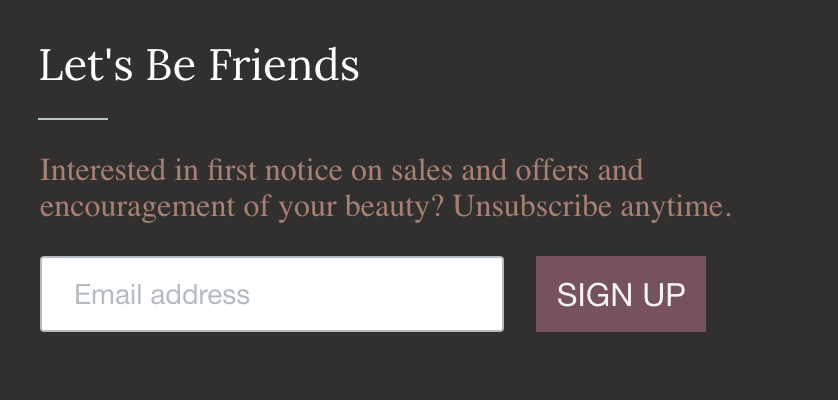 Welcome Series
One of the first essential steps in attracting subscribers and turning them into paying customers? Create an effective welcome email series or sequence.
First impressions matter after all, and introducing your prospects to your brand and products not only increases interest and engagement, but it also shows your potential customers what your company stands for.
Did you know that welcome emails have a higher open rate than the average email campaign? Research shows that a welcome sequence typically has an average read rate of 34% (which is 42% higher than the average).
Remember, your welcome emails are like the first interaction you'll have with your future customers. They may have seen your Facebook ads, Instagram reels, or scanned over your website already, but many of them still might wonder what it is that separates your business from the competition.
So it's vital to create a solid introduction, while nurturing your pre-sell relationships to start building interest in your business. And for many brands, the welcome series is a good place to start (since it's also a top revenue driving tactic in the world of email marketing and automation).
With some time and creativity, you can easily turn your next welcome email sequence into a consistent source of revenue for new fans and customers.
Let's take a look at what makes a winning welcome series.
Best Practices for Welcome Emails
When building your first welcome sequence, keep in mind that your email subscribers are not your customers yet. The goal is to give your audience a taste of your brand with as much value as possible. Don't push too hard on trying to sell your product right away.
Here are some other tips:
The first email should be sent immediately after someone subscribes.
Save upsells or product mentions for later—this is a "welcome to the family" sequence.
Make your CTAs link to landing pages with hero products (this shortens the funnel to purchase).
Exclude those who become actual customers from your welcome series.
Use simple layouts and high quality images. From product photography to custom illustrations, the visuals in your welcome emails should be simple yet powerful.
Encourage subscribers to whitelist your email address so they don't miss out on important news or sales.
Always be testing. From your subject lines to using emojis, most email providers have testing and tracking features for click-through rates and open rates.
Welcome Email Examples
Here's a look at some effective welcome emails that we've collected from small and large companies.
One quick suggestion: Analyze the emails from your competitors and the brands you like then craft your own unique emails and sequences. Overtime, make a note to review your emails so you can see where things can be improved.
Browse Abandonment Emails
These types of emails are the automated messages sent to a subscriber. For example, someone who may have been viewing products on your website but never actually ordered.
Sending automated messages like emails, or even text messages, is an opportunity for your business to make the most of shopper intent or interest.
Because knowing that a subscriber viewed your site and products shows that they had some level of interest, which is a good thing. But the reasons they "abandoned the page" may not be as clear. Often though, this happens due to: indecisiveness, price, speed or cost of shipping, distraction, or a combination of reasons.
So if you're running an eCommerce store, it can be useful to automate relevant messages to casual window shoppers. Since most of these messages are sent to email subscribers, your business can take advantage of customer data to enhance and personalize future emails like product recommendations and incentives as well.
Browse abandonment emails are ideal for engaging customers in the middle of their purchase journey. Sometimes, all it takes is a simple, friendly reminder to re-engage a potential shopper.
Cart Abandonment Emails
Cart abandonment emails are slightly different and it's easy to mix them up with the ones we talked about above.
But here's the biggest difference: Cart abandonment emails happen when a potential customer places an item in your online shopping cart.
So if a shopper receives a cart abandonment email, that means they had a much bigger interest in wanting to buy a certain item or many items.
These emails, or messages, are typically best when it comes to conversions since they target shoppers who have the highest purchasing intent (all they have to do is enter a few credit card details, click to confirm, and voilà done and purchased, right?)
No matter what type of abandonment email your subscribers get, all of them play a big role in your overall email marketing strategy. Why? Because it's important to continue engaging with and nurturing your subscribers (both new and existing customers) at different stages during the buying journey.
And the best part about these emails? Once everything is set up and automated, it doesn't require any extra time from you or your team to manage.
Before we move on, it's worth mentioning one other type of email: product abandonment.
These messages are triggered when a prospect lands only on a product page (in other words, a potential customer is interested in a specific product). This allows you to send targeted messages compared to browse abandonment emails, which can be more generic.
Here's a quick summary of the types of abandonment emails:
Cart abandonment emails: Sent to potential customers who add items to their cart without completing the purchase.
Browse abandonment emails: Messages that are triggered to send when a shopper visits any page on your website or eCommerce store.
Product abandonment emails: Similar to browse abandonment emails where tailored messages are sent when a visitor lands on a specific product page.
Abandonment Email Examples
Knowing when and who to send your abandonment emails to is one thing, but understanding what to create and send in your emails is a whole other strategy and topic.
Here's a look at the abandonment email funnel from one of our clients: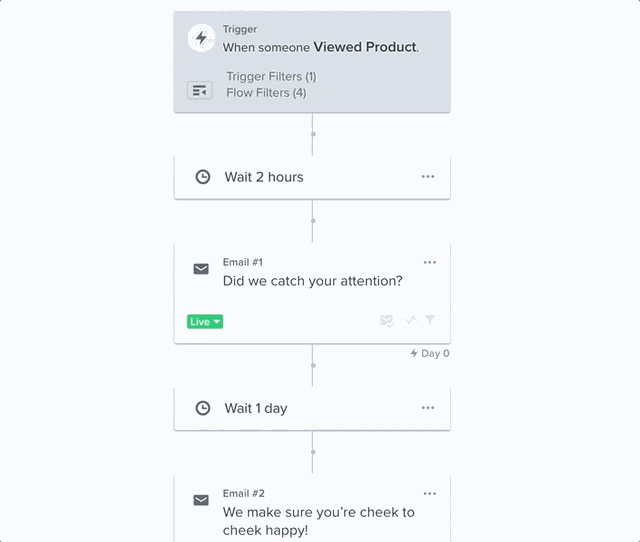 And to help you get started with designing and writing your own abandonment emails, here are five email examples from a few big name companies:
Post-Purchase Email Campaigns
The secret to having a thriving eCommerce business? Customer retention.
Repeat customers cost less and bring in more money than new customers. It's no surprise companies like Amazon are constantly pushing their Prime membership—did you know that it brings in an astonishing 93% retention rate?
Take a moment to think about what that number can do for your business too. Amazing, right?
One of the easiest and most effective ways to improve customer retention is with post-purchase email sequences.
According to Klaviyo data, post-purchase emails see a 217% higher open rate, over 500% higher click rate, and 90% higher revenue per recipient (RPR) than your average email campaign.
So what are post-purchase emails exactly? They're the emails that get sent after a customer makes a purchase
Best Practices for Post-Purchase Campaigns
When done right, post-purchase emails will help you get more people going back to your site, lay the foundations for another purchase, collect customer feedback, and improve customer experience.
Here's a quick list of best practices to consider for your post-purchase campaigns:
Send the first email immediately after a purchase has been made and thank them for their order.
In your email service provider, make sure to split or segment your first-time buyers and repeat purchasers.
Hold off on asking for a review right away. Your customers should have enough time to experience the product first.
Consider sharing tips on how to best use the purchased product.
Offer a discount to re-order in one of your last post-purchase emails.
Post-Purchase Email Examples
Check out these creative email examples below from top brands that understand the power of post-purchase email sequences and customer retention:
Conclusion
The truth is, email still has a powerful presence in the world of marketing, especially for online brands and eCommerce stores.
We've covered a lot here but hopefully this practical guide gives you a head start with your email marketing efforts (so you can reach new customers, retain existing buyers, and accelerate the return on your investment dollars!)
Here's a summary of what this email marketing 101 guide covers:
Email Service Provider Setup
Build Your Email List
Welcome Series

Best Practices
Email Examples
Browse Abandonment Emails
Cart Abandonment Emails
Abandonment Email Examples

Post-Purchase Email Campaigns

Best Practices
Email Examples
And if you're thinking, "This is great, but now what?"
We get it. There's a lot of time and energy that goes into crafting email sequences, content, and automations.
But this is why our Adtribe team exists—to be your trusted right hand as you grow your eCommerce brand (while tracking all the essential numbers and customer data)—so you can sit back and do what you do best.
So if you're serious about scaling your online business, jump over to our contact page and let's get this process rolling.