AdTribe is Named Ukraine's Most Reviewed and Recommended Social Media Marketing Firm
Social media is a powerful platform that can help you reach your audiences and scale your business. However, as easy as it seems, social media marketing can be a daunting task. That's where we, AdTribe, come in! It's unimaginable that we've been on a roll; hitting milestone per milestone with you guys. Though the journey that we're on isn't easy, your support makes it all worthwhile. That's why we are truly proud to announce that we've been recognized as Ukraine's 2021 most recommended social media marketing company!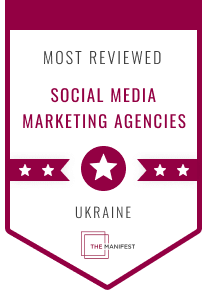 To give you a better understanding, here's a brief overview of our milestones over the past few years.
Back in 2019, our beloved CEO, Dmitry Fesenko, started this family with goals to provide cost-effective and simple solutions to our clients. By the following year, we were already moving into a new office that served as our safe and creative headquarters prior to the pandemic.
Now, we have more than a hundred clients and we can't believe that we're celebrating this milestone with you! We stand out because of our personal approach and ability to build bonds beyond our services. That dedication earned us The Manifest's recognition!
For those who don't know, The Manifest is a business blog platform that curates insightful industry wisdom to help entrepreneurs and service providers like us. According to their findings, AdTribe is among the top 15 most recommended social media marketing companies in the whole country.
We are thrilled to have been chosen as one of the leading Social Media agencies in Ukraine by The Manifest

Dmitry Fesenko, CEO at adtribe.com
Of course, this award is a reflection of how successful and satisfied our clients have been. We attribute this amazing feat to them. AdTribe is honored to have the privilege of working with such wonderful people.
Want to work with a team that understands, listens, and strives? Look no further because AdTribe is here. Send us a message today and let's focus on scaling your business.